EAT Hackney
Nazish Khan and Sophie Foster
Angry Bairds
Unit 4, 3 Glebe Road E8 4BD
–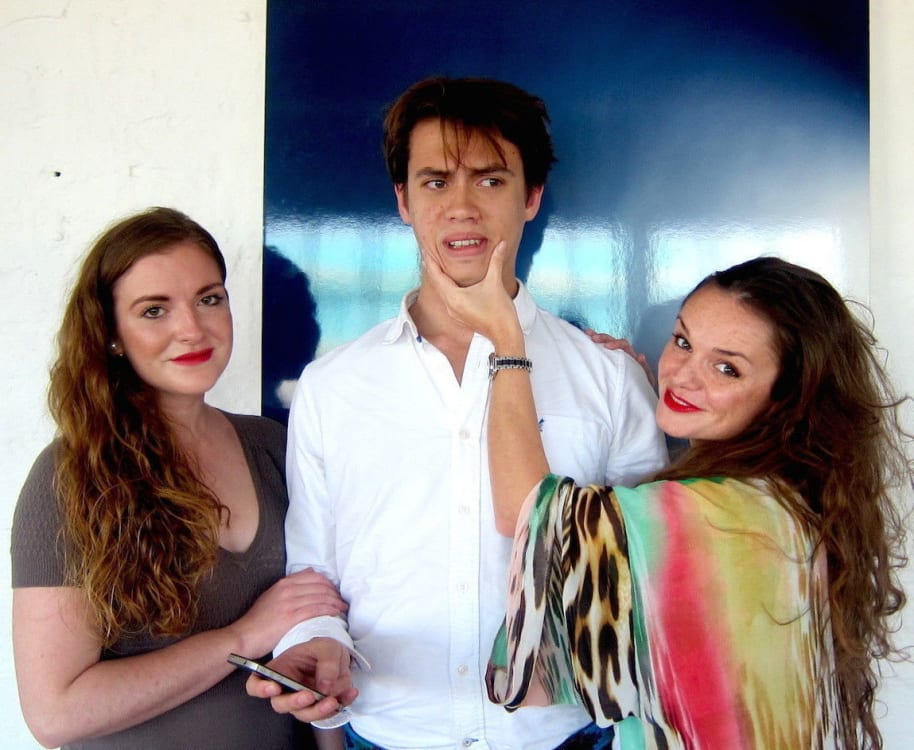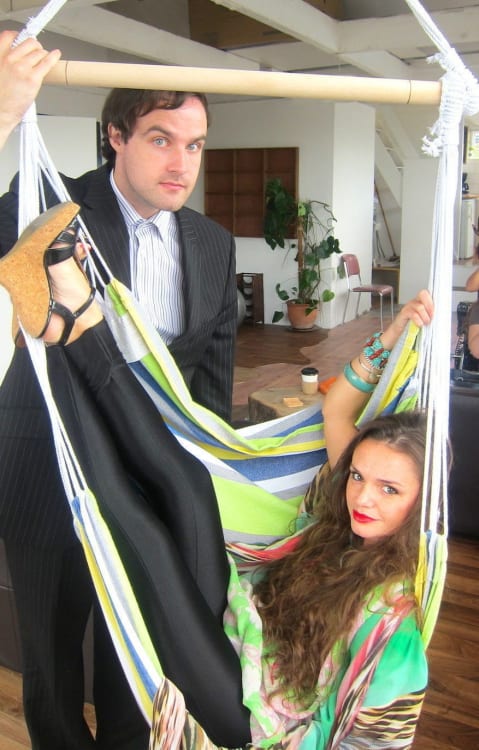 This piece of immersive theatre is an invitation to a dinner party hosted by self-made businesswoman Harriet (Kelly Russell).
She is giving it to introduce her friends to her new feller Francis (Paul Christian Rogers) and to show off her imaginative cuisine. It is a big dinner table—there are another 18 guests so it is no surprise not to know many (maybe not even Harriet) but they all seem friendly. Some are close family: they include Harriet's sixteen-year-old son Andy (Joshua Charles Cheung), sister Kate (Emily Florence Hutchings) and Kate's husband Lucas (Warren Rusher).
An attentive hostess, Harriet doesn't want to keep disappearing to the kitchen so she's hired in a couple of waiters, enabling her to stay at table.
Harriet lives in a loft so it is hardly surprising that she's a little bit bohemian with colourful fabric for décor, a hammock hung up in the rafters and, though she's just a little pretentious and a touch bossy, she is certainly lively.
Francis, her new man, is the son of hoteliers: his parents have opened a number, he grew up in them. Now he's a food critic who knows all about good wines and fine dining. He seems a rather typical, well-brought-up boy without much personality; ideal you might think for a man with a food column who doesn't want to be immediately identified.
What does Harriet see in him? Maybe respectability. She certainly sees him as something to show off. He also seems very compliant, which her family isn't. She can't have been easy to grow up with.
Sister Kate (who's her elder) gets patronised, Lucas she rubs up the wrong way and Andy is a rebellious teenager. There is plenty of family bickering—not fine-dining behaviour at all you might think but the guests seem to find it amusing. Perhaps most of them really do know her and this is what they are used to. No one makes much attempt to calm things—they are actually enjoying it and taking a lively interest.
Conversation flows; though the family dominates it, there are serious strands about feeding the poor, avoiding food waste, improving diet, new food sources, bulimia, parenting, childlessness. Kate and Lucas help with a food bank. Harriet and Francis have their own food plan, which they intend you should sample.
Domestic disagreements lead to confessions and revelations in the personal storyline but without any real unpleasantness or dangerous disruption. The effect is very much like a real dinner party—but one that offers witty comment on wine snobbery and on contemporary food presentation and innovation in its intriguing menu.
The script allows for improvisation according to audience guest comment and behaviour. Guests can bring their own bottle so intake of alcohol could affect liveliness, strong political opinions make for more forceful argument but the format does give the cast some control, though there is opportunity to take discussion further when guests leave the table prior to departure.
Through ninety minutes and four courses, this cast creates a simulacrum of reality that makes an enjoyable evening, more fun than many middle-class dinner parties and gastronomically different—thanks to the real chef: Arthur Clamen.
Reviewer: Howard Loxton