Eat, Pray, Laugh! Barry Humphries Farewell Tour
Barry Humphries
Festival Theatre, Edinburgh
–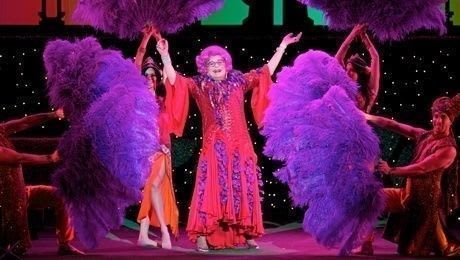 Beneath the music hall veneer of slapstick, silly songs and a homely backyard scenery is a clever show with plenty of current humour. Dame Edna Everage and Sir Leslie Colin Patterson may be about to enter retirement after, between them, over a century of showbiz graft, but neither of them can be said to have lost their ability to shock.
The show begins with Sir Les, no longer Australian Cultural Attaché, but now a celebrity chef. The cooking is a subtle infusion of simple Aussie cuisine: Les's tasty risolles, with a healthy dollop of toilet humour. Nor would an appearance from Sir Les be complete without some totally tasteless jokes, mysogynistic and homophobic by turns, he doesn't disappoint.
The joy of Sir Les and Dame Edna is the way in which Humphries lets himself go with these characters. He has said himself that he doesn't always know what they are going to say. There is a definite sense of anarchy to them both, Sir Les in a cruder down-to-earth way, Dame Edna in her waspish snobbery.
Both, though, are totally incapable about holding their tongues about anything or anyone. The front row gets quite a mauling, though from Les this takes the form of obscene advances and with Edna it's unflattering put-downs.
Two other characters do make an appearance. There's a new creation, Les's brother Gerrard, or rather Father Gerrard, for Les's brother is a man of the cloth, no less priapic than his brother, just more interested in the pianist (Nick Len) than the female dancers. There's nothing wrong with the paedophilia jokes, but the character doesn't seem quite as confident and well formed as his brother.
Humphries however did have a card left up his sleeve for the close to the first act; no, not 'Her' yet, but Sandy Stone. Another old creation of Humphries, in fact so old he is deceased. To prove it isn't all about laughs, after Les doing the eating, there is the ghostly figure of Sandy in what could be termed a prayer. It's sweet rather than sad and reminds you what a versatile performer Humphries is.
The whole second act, as you might expect, is filled by the glittering brilliance of Dame Edna, who, even in her toned-down outfit and after a humbling spiritual Indian retreat (with the Dalai Lama), is still an eye-wateringly dazzling presence. It seems highly unikely that this will be her final tour when she still has so much energy and the ability to have the audience rolling around from a mere glare and twitch of the mouth.
If it is Barry Humphries's final show, his characters are certainly being given the chance to go out on a high. Les, Sandy and Edna, a colossal theatrical trinity, and quite a considerable achievement.
Reviewer: Seth Ewin