Eat Pray Laugh! Barry Humphries' Farewell Tour
Barry Humphries
Opera House, Manchester
–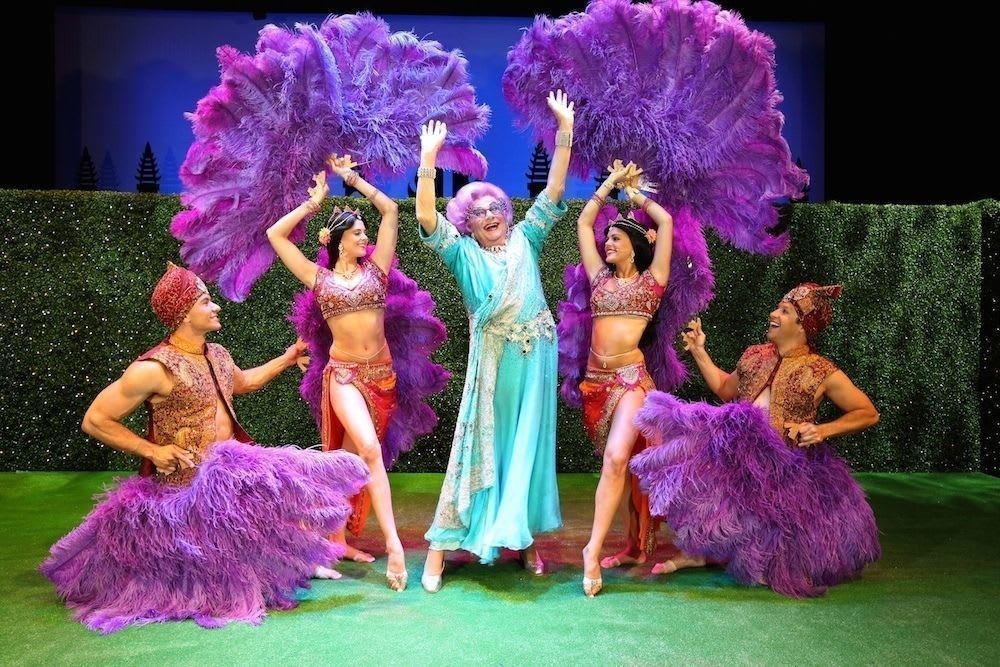 This is billed as Humphries's farewell tour, and the Opera House is the last leg of the tour, but is this really the last we will see of Dame Edna, Sir Les and the rest of them?
The show is opened by Sir Les Patterson, the Australian Cultural Attaché who doesn't do a great deal to dispel the cllchéd image of Australian culture, or of the Australian male. This dribbling, spitting, farting diplomat with a low opinion of immigrants and a rather sexist attitude towards women, (he says, "if you're hoping for political correctness you can just f*** off home") is trying out his new role as a TV chef, cooking rissoles on the barbie (actually cooking them live—you can smell them) with the help of a couple from the audience.
While Sir Les is loudly expelling his Mexican food in the outhouse, into this colourful garden scene comes brother Gerrard, a priest with an unhealthy interest in children and young men (if you can imagine such a thing). Humphries deliberately toys with subjects considered to be within the realm of political correctness in order to shock, which he does to great effect.
The problem with this is, as with Johnny Speight's great character of Alf Garnett, that while some are laughing at the character and his bigoted views, I suspect there were a few Daily Mail readers laughing along with his distortions of facts and agreeing with him. But that's certainly no reason not to confront these subjects.
For me, this section had some very funny moments but went on a little too long, but that's merely a matter of comic taste. What he does, he does brilliantly, and it's all very slickly directed by Simon Phillips.
After the Pattersons, the show switches mood completely (except for one woman who continued to shriek with laughter at every line, whether it was a joke or not) as Humphries enters as Sandy Stone, an older gentleman who has died and has some rather moving stories to tell. The tone of this piece is much darker and more gentle, but it is still just as funny and biting when the comic lines come out.
After the interval, we get a mock documentary about a certain housewife megastar before Dame Edna herself enters in a glittering, jewel-encrusted gown—on an elephant. Whatever the quality of the other characters, it is when he is behind the diamond-studded glasses of Dame Edna that Humphries is at his most creatively savage, as he picks on individuals in the audience and insults their appearance, occupations, homes and anything else he can get them to reveal to him. He even picks out two people for a bit of matchmaking.
The Dame Edna section is hilarious—I had tears rolling down my face from soon after the interval. He may now be 80, but Humphries is as quick-witted and cutting as he ever was, still able to get an audience of 2,000 people laughing at his insults of them.
Following a film compilation of some of his characters of the past 60 years, Humphries returns as himself. He said finishing his tour in Manchester had extra meaning for him as this was where his grandfather left in 1888 to emigrate to Australia. Then, with that mischievous glint, he said he hoped we would be back for his next farewell tour.
And I haven't even mentioned the very well-crafted comic songs, the chorus of singers and dancers or the on-stage pianist, all of which were top quality.
Don't wait for that next farewell tour; catch this master comic performer while you can, unless easily offended.
Reviewer: David Chadderton