Echo's End
Barney Norris
Salibury Playhouse
Salisbury Playhouse
–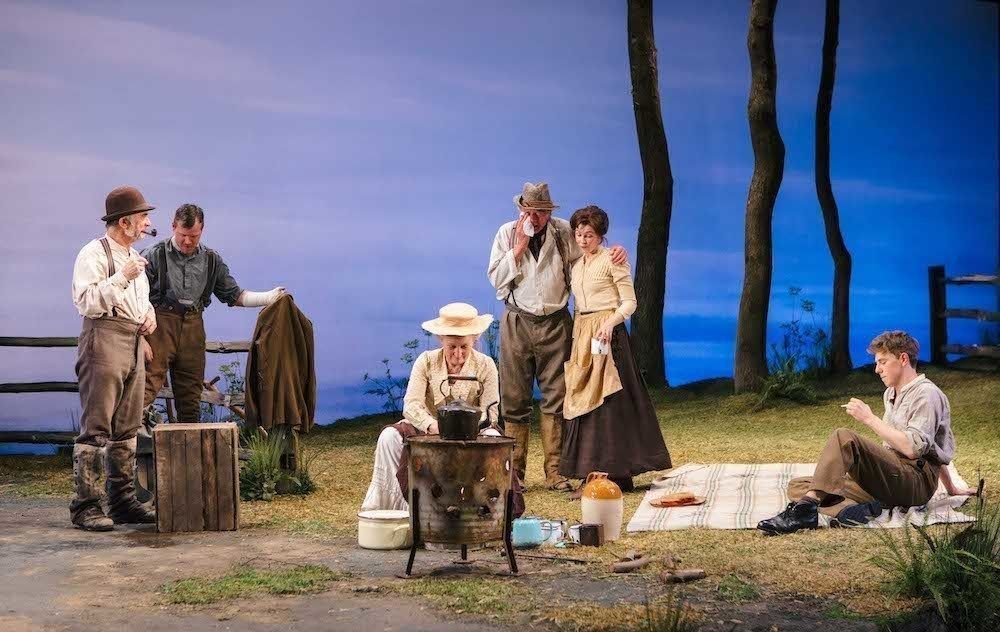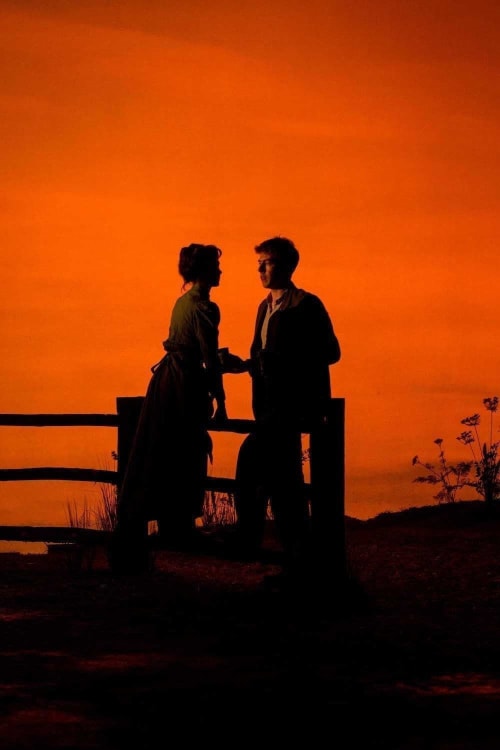 We're in a beautiful, sunlit meadow with two graceful trees, some strategically placed fencing and an extensive patch of wild flowers bordering a dew pond. The sun is setting, bathing the whole scene in vibrant red. We shall recognise the time of day or night by the colour of the sky throughout the changing scenes.
It's rural Wiltshire in 1915 and Salisbury Plain has been commandeered by the military, which explains the many white tents which cover the part of the plain that's out of sight.
Margaret (Sadie Shimmin) and Arnold (David Beames) are next door neighbours. Margaret's son John (Tom Byrne) and Arnold's daughter Anna (Katie Moore) are lifelong friends. Their parents hope they will one day marry. Seventy-year-old Jasper (Robin Soans) is a friend who, although he isn't above a bit of occasional poaching, is a valued member of the group.
We join them in a celebration of Jasper's imagined birthday.
Tomorrow, Anna and John will be back to harvesting potatoes, their playful games forgotten. It's back breaking work.
Then, much to Margaret's dismay, John decides to enlist. Her great fear that "there'll be no young ones left here" falls on deaf ears. As does Anna's argument that farmers are vitally necessary and soldiers should be recruited from the cities, not taken from rural communities.
When personable young New Zealander Jack (Oliver Hembrough), convalescing after a serious war wound, appears on the scene, things get complicated. How will Anna's feelings be affected? Will John come back from the war? Will Jack return? And what will happen to the old folk?
This play was commissioned by the Playhouse from Barney Norris whose popular Five Rivers Met on a Wooded Plain took up a whole window of our local Waterstones earlier this year and gave voice to a number of real or imagined colourful Salisbury characters, particularly those connected with our twice-weekly market place.
Barney, as well as having all those ancestors to call on for possible storylines, is a product of our local drama scene, of course. Both he and director Alice Hamilton come, originally, from our local Stage 65 Youth Theatre, while designer Tom Rogers gave us that wonderful rural landscape. And then there are all those local references. Bulford's mentioned, Larkhill, Southampton, Stonehenge, of course, Lord Pembroke (Jack had a professional interest in his deer), the episode with the donkeys at Durrington and the reference to Christchurch (not to be confused with theNew Zealandone).
But there was resentment of the military from the farming folk, surely? "Your stores are full while ours are empty, they accused. And when the last of the harvest was being gathered in and the remaining rabbits were forced to dash across the stubble before being caught by the dogs, the children fought with them for the meat. (No childhood obesity during that war.)
Lots of interesting information and atmosphere then, including tantalising references to Spitfires and even the future building of a railway line. And an extremely hardworking cast, only six of them—those Wiltshire accents would have been a challenge—but who really courted our sympathy or concern? Isn't this always the test of a really engaging piece of drama? That as you leave the theatre you go over your favourite lines, if that's the kind of play it is, or you worry about what's going to happen to the characters now that you've left them.
Sorry, but Echo's End had me worrying about that dead sheep they were consigning to the pond. I mean, it's dripping wet. When the play's finished do they dry it off or have they got a consignment of other dead sheep they can call on?
I'm still wondering...
Reviewer: Anne Hill