Echoes & I Imagine
Aditi Mangaldas (Echoes) and Aakash Odedra and Sabrina Mahfouz (I Imagine)
Aakash Odedra Company
Curve Theatre, Leicester
–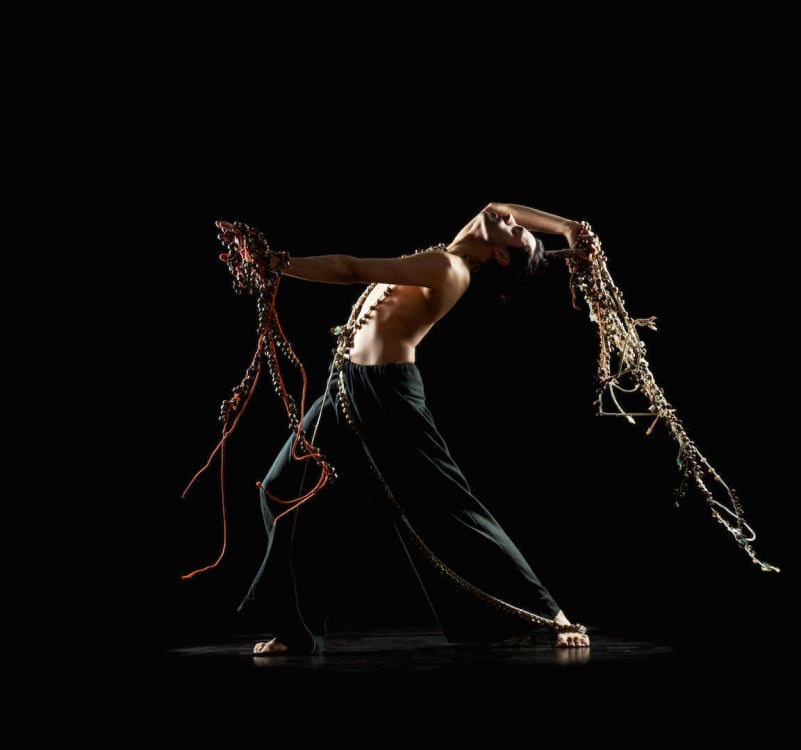 New work by award-winning Aakash Odedra always generates a flurry of excitement and expectation, such is his reputation for stunning, innovative dance. A coup for Curve then as it hosts the world première of its associate artist's two newest pieces, Echoes and I Imagine.
In Echoes, Odedra returns to his roots in kathak, a traditional classical Indian dance (where kathak translates as 'storyteller'). Under ropes of golden bells cascading from the ceiling, stage left as well as snaking across the stage, Odedra responds and reacts to these traditional bells in an intriguing representation of the form.
Appearing in a conical shaft of golden light, Odedra swirls ghungroos (the traditional bells usually wrapped around dancers' ankles) within the confines of the light beam and to Shubha Mudgal's plaintive song.
Odedra is at times a whirling dervish, maybe not such an incongruous choice of words given kathak has absorbed and influenced the dance forms of other cultures over the centuries.
This piece is not just about spins—integral as they are to the dance form—but a reflection on awakening and challenges to tradition. With complex rhythmic patterns stamped out with his feet and sometimes hands (echoes of flamenco's roots) together with expressive and sensual hand movements, the phrasing of the dance allowed moments of high energy and calm, light and shade.
One small point is several parts of the dance took place downstage right with Odedra seated or prostrate, obscuring sightlines for a large proportion of the audience.
Odedra is a graceful, expressive dancer, slight yet strong and this, combined with Aditi Mangaldas's inventive choreography, Fabiana Piccioli's golden light beams, the stirring rhythms and the shimmer as Odedra played the bell ropes is a mesmerising experience.
After a short interval, the stage is re-set for I Imagine, a collaboration with another award-winning writer and spoken word performer, Sabrina Mahfouz. It would be wrong to let slip a spoiler for the Houdini-like start to this piece; suffice to say it took the whole audience by surprise.
Using various sized-suitcases and three masks, Odedra again tells a story. Aided by Mahfouz's poetry played on an audio track or sometimes said by Odedra, he manages to be both playful and poignant as he characterises the experiences of those who find they must leave their home, often with no more than one suitcase. In one particularly clever sequence, the hopes and aspirations of first, second and third generation migrants are portrayed through minimal but expert physical theatre and voice.
Odedra takes us on many journeys here, creating escape tunnels and busy streets simply through clever use of a few suitcases. The sequence portraying imprisonment and enslavement using only his t-shirt and trousers was stunning and almost too uncomfortable to watch.
In these troubled times of mass movement of people, this is a particularly affecting and apt piece. "Home is where the hope is," was a repeated refrain along with: "for us, when it rains at home it means something, it has purpose. Here it is monotonous and grey." Both get straight to the heart of I Imagine: what does it mean to an individual, a culture to move? And how do the communities receiving these migrants react?
Answers are not provided here; this is a piece to stimulate thought as well as marvel at what this dancer, poet and production have achieved.
Reviewer: Sally Jack