Echoes of Villers-Bretonneux
Shane Palmer
Greenside @ Nicolson Square
–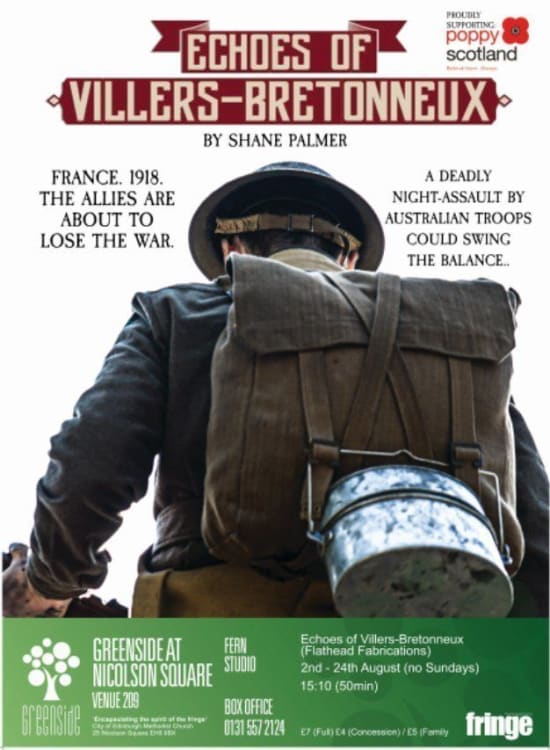 The one-man Great War play has become something of a tradition at the Fringe, particularly amongst young male actors. That's not a bad thing, and many great performances have come from this simple and effective concept. In the case of Echoes of Villers-Bretonneux, there is enough ingenuity to raise it above the parapets of mediocrity, but not quite enough polish to make it exceptional.
It begins intriguingly enough with Shane Palmer as a disenchanted young Australian man in the modern day who stumbles upon his great-grandfather's gears of war and journal. From there, the story picks up in the last century and traces a line through the various places and events seen, including the titular battle of Villers-Bretonneux.
Palmer's performance is certainly believable and intense, affecting a growth from wide-eyed youth to grim-faced veteran through the course of the war. He breaks up the vignettes with minor changes in pose and costume, utilising a simple wooden pallet to great effect as his only stage prop. The trouble is that the piece is stymied by a hefty pace, which rarely lets the audience breathe during a scene and, more unfortunate, some audio and light cues that were either badly conceived or mistimed during the performance. The result is a play where the central performance is good, but felt so hurried that it made it difficult to empathise and framed within a device that doesn't quite work as a result.
It's still a notable performance and I expect Palmer will move on to better things, and if you're after that Fringe classic "Great War play" experience, there's a lot to like here.
Reviewer: Graeme Strachan