Ecstasy
Mike Leigh
Hampstead Theatre Production
Duchess Theatre
(2011)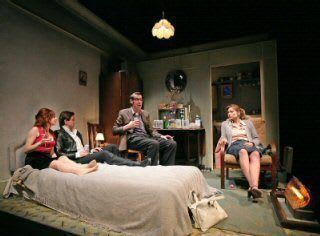 It's unusual to have a second act that's longer than than the first and - practically unheard of - a second act that's close to two hours, but if you're not put off by the length, then the 2 3/4 hours spent at Mike Leigh's Ecstasy is time well invested. After an excellent reception at the Hampstead Theatre in March, Ecstasy opens triumphantly at the Duchess Theatre.
First seen in 1979, Ecstasy is set in a Kilburn bedsit in the late 70s. As in his earlier play, Abigail's Party, Mike Leigh presents a snapshot of human life, focusing this time on the loneliness of living in London. A fantastic Siân Brooke leads the cast as Jean, the withdrawn and passive tenant who has sex with a married man she doesn't like and who keeps gin hidden in a wardrobe. Brooke is both funny and heart-breaking as the Brummie, making the audience laugh with the smallest word or gesture.
The play doesn't really get going until the second act; having had her flat invaded by her married lover's wife, who breaks the bed before leaving, Jean goes out with her long standing friend, Dawn, and returns for further drinks with her, her husband and their old friend Len, recently abandoned by his wife. As they get progressively drunker, the four friends reminisce.
Allen Leech and Sinéad Matthews are superb as the married couple, Mick and Dawn. The two kiss and bicker, the Irish Mick beaming and cheeky as he gets drunker and naughtier, whilst Dawn stumbles hilariously around before falling into a drunken stupor. Craig Parkinson as the socially awkward Len is equally funny with his earnestness and inappropriate comments - "better out than in," he declares as he returns from the loo - yet he is also touching as the lost Lincolnshire worker rekindling his friendship after years of being out of the loop.
Despite being set thirty years ago and being very well grounded in the seventies by the excellent design by Alison Chitty, the play has an almost timeless quality. Change the Elvis to Lady Gaga and these could be any four friends getting determinedly drunker in Kilburn. We can understand Jean's tedium with her job, staring at a brick wall as she stands behind a till at a gas station. Even the cringingly ignorant conversation about Pakistanis living in London holds some future echoes of present day views on immigration. And, when the party is over, Jean's beautifully wrenching speech which reveals the depths of her depression will fail to move only the hardest of hearts.
With not a lot of plot and stalwartly realistic dialogue, this play could have been boring. After all, most of it is like watching people down at the pub. But with lashings of humour and a thoroughly excellent cast, Ecstasy manages to make the entire hour and forty-five of the second act entertaining and enjoyable. Although the party begins to sag a bit, as parties do, we never feel the urge to make our excuses and leave early.
Reviewer: Emma Berge