Edward II
Christopher Marlowe
Em-Lou Productions
Rose Theatre, Bankside
(2011)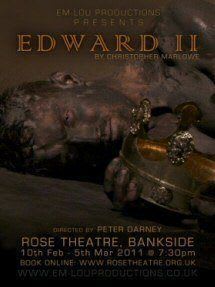 To sit on a platform hovering over the very acting space where Christopher Marlowe's Edward II was first staged is exciting enough. To be with such a young and enthusiastic audience is even better. The Rose Theatre certainly attracts the very best in innovative and experimental early modern drama. Edward II is just the latest offering of some fine, relatively obscure plays.
Only 'relatively' obscure, as those who follow the 'Jacobethan' scene know how popular this fascinating tragedy has become. One obvious reason for its new-found fame is Marlowe's uncompromising and morally non-judgemental narrative exploring the overtly homosexual proclivities of King Edward, son of Edward Longshanks.
This king is married to the sensual Queen Isabella, played with surprising sexual allure by Zoe Teverson. Despite her obvious and oft-displayed charms, Isabella is unable to kindle the ardour of her husband. The reason? The king is smitten with a new love, the dashingly tall, dark and handsome Gaveston (Joseph Bader).
Matt Barber injects a vulnerability and a passion into his King Edward that is matched by those who seek to use their power and influence to alter his sexual leanings. When he greets his Gaveston, Edward embraces his lover with all the predatory sexuality of a malevolent praying mantis. He consumes the young man.
Gaveston cannot survive long in a court so opposed to the King's favouritism. Little is made of the morality of Edward's lust, but much of the ineffectiveness of his rule. To dedicate so much time and effort to a pretty young upstart proves too much for the barons and earls of England to bear. They assassinate Gaveston by slitting the unfortunate man's throat.
Never one to miss an opportunity for more manly passion, the King transfers his attention to Spenser Junior. Guy Warren-Thomas is superb as the susceptible young Spenser whose charm and effeminate good looks find their perfect home in the palace. He too will eventually suffer, as will his royal lover.
Edward's overt expressions of homosexual love, and the neglect of his passionate wife, lead to the luscious Isabella foraging in pastures new. Where better than in the arms of Mortimer Junior (Robert Fitch), a testosterone-powered individual whose wooing of the nation's queen hides a far darker purpose. When eventually Mortimer himself falls victim to the political manoeuvring of Isabella, he is undone by the youngest member of the cast, Jack Brett Anderson's prince, soon King Edward III. Brett Anderson offers a uniquely moving performance as he vainly holds back tears for his murdered father. Grief and anger in one so young. Electric to watch in such close proximity.
In an interesting dramatic twist, Guy Warren-Thomas plays both king's lover and king's murderer. Adopting a Frenchified Machiavellian persona, Warren-Thomas's Lightborn plots and plans his victim's death. The final murderous moments are more graphic and more terrifying than any onstage murder I have ever seen. It is a slow, precise and painful death that Edward submits to. His final moments are steeped in sexual nuance. His sodomized demise is a brilliant coup de théâtre.
Peter Darney has directed a tight, exciting play. The simplicity of the costume designs by Nicki-Martin-Hooper at first offer cause for alarm, as kings, lords and prelates wander onstage in ripped tee-shirts and jeans. Even the king wears a diademed crown more Disney than Tiffany. After a while these design issues become less important as the magnificence of the plot and dialogue draws the audience into the tragedy.
With no interval and a running time of nearly two hours, this is a play that stands or falls on the quality of the performances. Sword fights are dangerous, love scenes erotic and characters well-defined and interesting. This Edward II, staged in the tiny space of the Rose, can never capture the full grandeur of the play's Marlovian set speeches. What it does offer is a dangerous intimacy that adds exponentially to an already dangerous play.
Reviewer: Kevin Quarmby