Eddie Izzard Stripped

Lyric, Shaftesbury Avenue
(2008)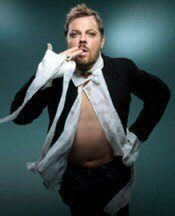 Eddie Izzard - stand-up comedian, multi-linguist, transvestite, stream-of-consciousness conversationalist - has been away for a long time. It's 12 years in fact since he was last in the West End.
He limbered up during a US tour before opening in Shaftesbury Avenue
He has been much missed.
Izzard, a charming, articulate and immensely likeable performer, is, twelve years on, still drifting in and out of weird and extraordinary flights of fantasy.
Hyper-active yet relaxed, he is willing to talk about anything and everything. And does so in an ad-libbed, thoroughly rehearsed sort of way
His theme is the history of the world, the entire history of civilization, no less. He has come to the conclusion that God doesn't exist.
His menagerie includes dinosaurs, giraffes using sign language, squids running out of ink whilst writing, jazz trumpet playing ducks, self-milking cows, a sheep shearing himself, and a squirrel drugged up to the eyeballs and sounds as if he probably knows Colonel Walter E Kurtz.
Izzard gives a vivid demonstration of a Spartan coming to grips with a spear bodily.
He illustrates the difficulties of the Latin language - especially if you are a messenger and have something to report in a hurry.
There is an amusing Steven Spielberg spoof on the Bayeux tapestry makers in their roles as medieval war correspondents covering the Battle of Hastings.
His hilarious, rambling surrealism is a constant delight; only his relentless atheism and too many silly Biblical jokes pall.
If you have never seen Eddie Izzard, where have you been all this time?
Go.
Reviewer: Robert Tanitch