Eden End
J B Priestley
Produced by Royal & Derngate with English Touring Theatre
Royal & Derngate, Northampton, and touring
(2011)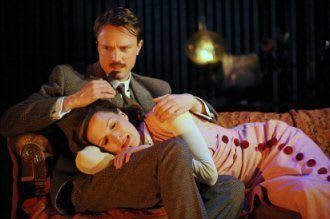 It is difficult to fully endorse Eden End at Northampton. On the one hand all the ingredients are there: a director with experience of staging Priestley, imaginative design and a promising cast but the resulting production doesn't quite live up to this promise. The fact is it left me feeling indifferent. Take it or leave it.
Laurie Sansom has proved his worth at uncovering little gems by well-known playwrights, most notably his excellent American drama season.
Eden End is no different; this is typical Priestley - lots of dysfunctional characters who never quite achieve where they want to be. This play in particular had the hallmarks of Chekhov in that not much seems to happen but the discussions and relationships are all so complex.
This is also typical Priestley in that the drama seems to happen half way through the play - it did feel with Eden End that we were waiting for the play to warm up and 'get going.' Towards the end of the first act, with the un-announced arrival of Charles, the 'secret' husband, it felt that the play had really just begun.
And perhaps this sums up the production. It felt disjointed, almost hesitant in places, like a race horse that hasn't quite got going.
Maybe this will be a thoroughbred. The drunken scene with Charles and Wilfred, played by Daniel Betts and Nick Hendrix respectively, really came alive and was full of life and energy.
The set was imaginatively designed and conceived by Sara Parks, accompanied by a well thought out lighting design by Anna Watson. With the stars and moors so beautifully highlighted by hanging sparkling bulbs and a purple hazed background, not to mention shadow projections that perhaps might have been used more frequently.
The set itself with the shell-shaped theatre uplighting set the tone for the flamboyant return of the actress in the family, Stella. Its small, cut-out framing complemented the idea of the characters stuck in but also drawn to the small piece of distant countryside.
And so there is enough here to not write Eden End off completely. However, at the first hurdle, for me this production doesn't quite climb the dizzy heights promised by Northampton's recent history of great in-house theatre.
"Eden End" plays at Royal & Derngate Northampton unitl Sat 25th June 2011. It then tours to: Theatre Royal Brighton (28th June-2nd July), Richmond Theatre (5th July-9th July), Oxford Playhouse (12th July-16th July) and Cambridge Arts Theatre (19th July -23rd July)
Reviewer: John Johnson