Edward II
Christopher Marlowe
Eyestrings Theatre Company
St Andrew's Crypt, Holborn
(2008)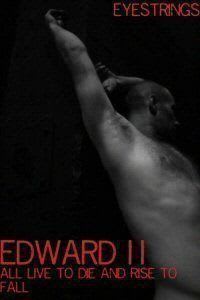 I have to confess I tend to favour new gritty writing over the classics so it was with a little trepidation that I approached Eyestring's production of Christopher Marlowe's Edward II.
Following the death of Edward I, his son, Edward II takes the throne. Once in power he brings back his exiled lover Gaveston, much to the annoyance of his wife and court. Iit quickly becomes a tale of conspiracies and backstabbing as it's each man and woman for themselves, as they clamour for the top in this intense power struggle. Of course there is no winner and ultimately they are each responsible for their own undoing.
St Andrew's Crypt, with its smell of damp hitting you the moment you walk in and its dark tunnels, provides the perfect setting for whispered conversations and conniving plots. It also creates a real sense of history juxtaposed with the modern dress of the characters.
So it was a promising start and the performance itself did not disappoint. The exploration of homosexuality was of course far more explicit than it would have been in its original performances. However it was far from indulgent and the behaviour of other characters is certainly more shocking.
There is nothing worse than feeling alienated by a cast who barely understand what they are saying themselves but this young and talented cast do not allow themselves to get bogged down in the language. With the exception of Mark Martin as Gaveston who, on occasion, slips into a very "I am an actor" style of performance, the rest of the cast perform with the same realism as if they were performing a piece of new writing down at the Royal Court. David Caves and Phil Cairns as two of Edward's noblemen turn in particularly noteworthy performances; their anger and resentment feeling extremely threatening at times with their close proximity to the audience.
When Edward II was written, it was written for what was then a modern audience and it is essential to remember this. It doesn't matter that it was written hundreds of years ago, it is being performed today and it has to feel relevant. Thanks to the slick direction of Owen Horsley, keeping everything beautifully simple he achieves exactly that.
Perhaps it's time for me to revisit some more classics?
Until 25th September
Reviewer: Rachel Sheridan