Editor
Written and performed by Claire Morgan
Pink Lane Productions in association with Arc, Stockton
Arc, Stockton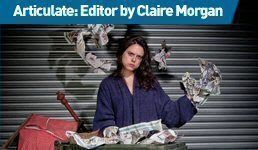 Claire Morgan describes herself as a spoken word artist and producer; her one woman show is an exposé of herself and we meet her at the local rubbish dump where she's searching for her lost journal. She'd left the journal in the car and now it's gone, stolen, and after a visit to the police station she decides to search for it.
The set is a huge pile of black plastic bags with a symbolic blue light on top, there's the obligatory supermarket trolley, a well used fold-up chair and an old bath that one audience member lounged in to watch the show. Even our chairs weren't matching and were placed randomly among the strewn pieces of a jigsaw and scrunched up paper.
Morgan's lost journal becomes the focus of her own identity, the paragraphs of her life like a memory now gone forever.
She's just an ordinary girl, dressed in a blue t-shirt and ill fitting jeans but she has an extraordinary talent for observing and re-assembling the words she stupidly left in the car.
"A few men have been through this way," she quips to a discarded white teddy bear that represents Marcus, then wraps him in swear words and hurls him back on the rubbish heap. Likewise Matt, another found soft toy that didn't make the grade. Her words have a resonance, like the lyrics of a song you've never heard, but instinctively you just know the words.
A grungy plastic bag is emptied on to the stage with a squishy thump. It's an Ox's heart, already going off, bought for a demonstration and never used. It lived in her freezer for a long time among the sausages and fish fingers with their coats of frost. Each time she opened the lid, there it was. It lived so long in this cold world she gave it a name. "I called him Bernard", she says holding it quite tenderly to her own heart, spreading the gunk of decay and the ooze of blood from a gaping hole across her t-shirt.
She remembers her innocence through a photograph of herself as a child, naked, wearing a droopy shower cap. A small hand and a tiny wave projects this naivety to an adult world and the event changes its meaning to something much more sinister and eventually, painful.
Morgan's talent for storytelling is quite remarkable, her words have the wings to fly in your face, yet the ironies of recognition creep up and even among the harrowing tales cause a smile to wipe itself knowingly across your face.
As I left the theatre thinking about what it all means, I found Morgan had left a footprint of creativity on my mind, like a new technique, there to exercise the brain on a different day when there will be another layer of my own self to discover.
I do have a very tiny criticism and that's the over-use of clichés. But these stand out simply because they are monochrome, throw-away sayings and Morgan's words display a much more unusual degree of understanding and skill for describing her world with every colour you can think of, and a few more.
Reviewer: Helen Brown