Edmea
Alfredo Catalani, Libretto by Antonio Ghislanzoni
Wexford Festival Opera
Wexford Festival Opera, Wexford, Ireland
–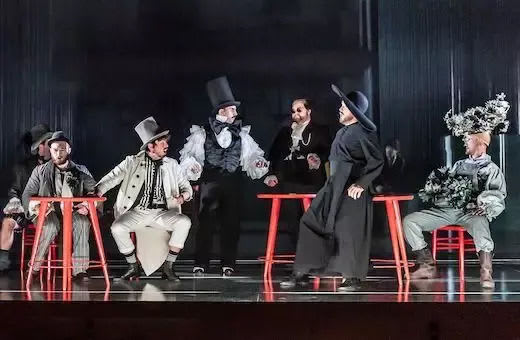 Italian composer Alfredo Catalani (1854–1889), hugely popular in his day, died young of tuberculosis and is largely forgotten. Edmea, which premièred at La Scala in Milan in 1896, championed and later conducted by the 20-year-old Toscanini, has not been performed for a long time. The 2021 Wexford production, directed by Julia Burbach and conducted by Francesco Cilluffo, is a rarity which many operagoers will want to catch.
The story is based on a play by Alexandre Dumas. Burbach takes a psychological approach and interprets much of the action as Edmea's subconscious. There are two rooms in the opening act, one on top of the other. They literally mirror each other and so the same furniture, the same window, the same painting and the same light fittings in the lower room are all upside down.
The female chorus is dressed and coifed to look like Edmea. The scenes in the biergarten with a theatrical troupe and the scene in the ballroom with 18th century aristocrats are fantasticated and surreal. The staging is messy, reflecting a disordered mind.
Three characters, consumed by love, have their hearts broken. Anne Sophie Duprels and Luciano Ganci are the right age for each other but not for the characters they play. I found it difficult to believe Duprels was a young orphan adopted by an aristocratic family.
Edmea is in love with Oberto (Ganci), the son of the house; and he is in love with her but his father will not allow her to marry him and she is forced, against her will, to marry a servant, Ulmo (Leon Kim). She goes mad and throws herself into the River Elbe. She is saved from drowning by Ulmo who adores her.
Mad scenes are always popular in operas but Edmea's madness is low key and she regains her sanity when she finds Oberto still loves her despite her marriage. The heartbroken figure which really moves one is the servant and his unrequited love. Leon Kim suffers deeply. Burbach, very oddly, has decided to go against the text and deny Ulmo his dying wish to be kissed on his cold brow by Edmea. The denial of the kiss doesn't feel the right end at all.
Catalani's music is all over the place, drawing on many sources, and often the best moments in his score are when his arias, duets and trios, excellently sung by Duprels, Ganci and Kim, sound most like Verdi and Puccini.
Wexford's Edmea can be watched free online on the Arte channel.
Reviewer: Robert Tanitch