Edmond de Bergerac
Alexis Michalik, translated by Jeremy Sams
Adam Blanshay Productions in association with Nicolas Talar, Productions ACME and Théâtre du Palais-Royal
Grand Opera House, York
–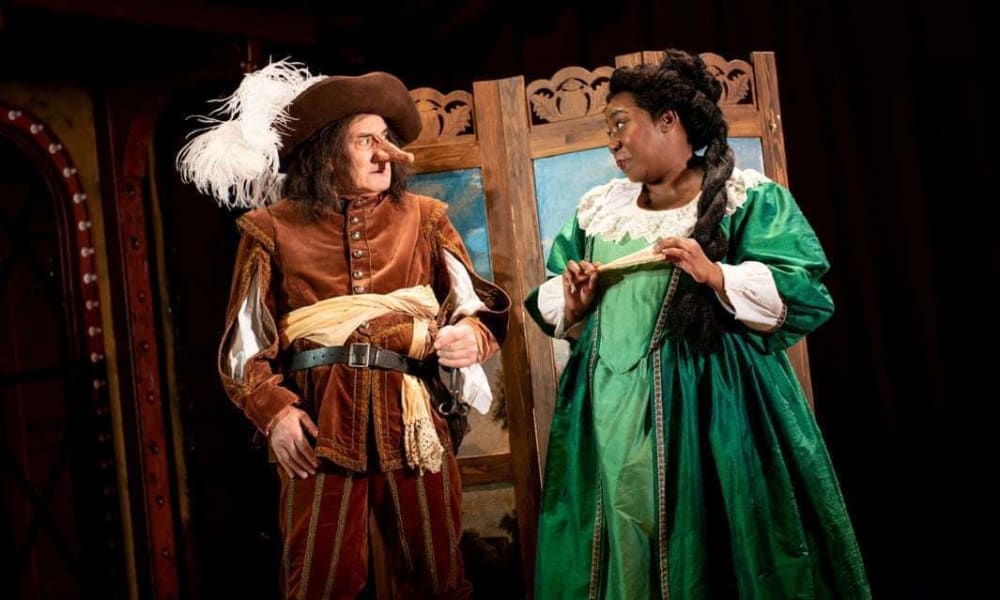 Playwright Alexis Michalik is a theatrical wunderkind. At the relatively youthful age of 36, he has already notched up several hits on the French stage and Edmond de Bergerac is his biggest success yet. In Paris, it has been staged over 700 times and a big-screen adaptation will soon be released.
I'm sure there are numerous reasons why Michalik's play struck a chord with the French theatre-going public, but the top one must surely be the popularity of the play on which it is based. Since its first staging in 1897, Edmond Rostond's Cyrano de Bergerac has become the most popular play ever written by a French playwright. Audiences continue to be drawn to this delightful comedy (described by the actor Charles Lanyer as "the most romantic play ever written") and many of the greatest stage actors—including Mark Rylance, Derek Jacobi and Antony Sher—have played the title role.
Like Shakespeare in Love, Edmond de Bergerac explores (or rather fictionalises) the story behind the play. When the play begins, Rostond (Freddie Fox) is a purveyor of earnest poetry and theatrical flops. Even the appearance of the divine Sarah Bernhardt (Josie Lawrence) can't save his latest play from an early closure.
However, things begin to change for Rostond when he is taken up by the acting giant Constant Coquelin (Henry Goodman), who hires him to write a comedy in which he will play the leading role. The young writer hits upon the idea of writing about Cyrano de Bergerac, but he still needs a plot. Fortunately, inspiration strikes when Rostond is called upon by his actor friend Léo (Robin Morrissey) to help him woo sensitive wardrobe mistress Jeanne (Gina Bramhill) with his eloquence, and this love triangle (of sorts) becomes the direct model for Cyrano.
Edmond de Rostond is an enormously likeable and charming play, stuffed with amusing one-liners and clever visual gags. It rattles along at lightning speed, thanks in no small part to Roxana Silbert's energetic direction, but it could stand to lose about 20 minutes in the second half. My heart dropped when I realised they were going to perform scenes from each of the original Cyrano's five acts.
Freddie Fox is wonderful in the leading role, capturing both the torment of writer's block and the joy of creative inspiration. Henry Goodman is suitably debonair as Coquelin, and the glimpses we see of him as Cyrano de Bergerac make one long to see him play the role in full. Josie Lawrence is great as Sarah Bernhardt, but she only appears in this role at the beginning and the end and is otherwise given very little to do. The part of Rosemonde—Rostond's neglected wife—is similarly underwritten, meaning that we don't feel as much sympathy for Sarah Ridgeway as we should, despite her heartfelt turn.
Robin Morrissey is hilarious as bumbling, lovesick Léo, displaying a real gift for physical comedy, and Gina Bramhill delights as Jeanne, the woman who inspires Rostond to keep on writing. There are also fine comic performances from Chizzy Akudolu, Delroy Atkinson, Nick Cavaliere, Simon Gregor, Harry Kershaw and David Langham.
Michalik's play gives you a deliberately exaggerated version of 1890s Paris, a place where Sarah Bernhardt rubbed shoulders with the likes of Georges Feydeau, George Méliès, Maurice Revel and even Anton Chekhov. This cartoonish version of the belle époque is beautifully recreated in Robert Innes Hopkins's colourful set, which quickly switches from café to theatre to bordello.
Edmond de Bergerac is funny and romantic, much like the character who inspired it. Despite some minor bugbears, it offers audiences a fun-filled evening of escapism.
Reviewer: James Ballands