Edwin Morgan's Dreams - And Other Nightmares
Liz Lochhead
A Glasgay! / Tron Theatre Co-Production
Tron Theatre, Glasgow
(2011)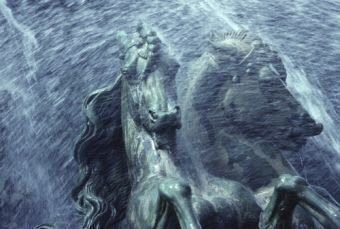 A play about a Scotland's recently deceased last Makar, or National Poet, by Scotland's present Makar. Not only is this a celebration of Edwin Morgan, Liz Lochhead also provides a glimpse at the secret world of gay Glasgow in this premiere for Glasgay! to mark the first anniversary of his death.
Davie McKay gives an amazingly animated performance, despite being for the most part a bedridden nearly-nonagenarian. Liz Lochhead philosophically ascribes him the role not just of Morgan the person dying of cancer but also his 'Life Force'. McKay performs well despite being shrouded in bed clothes but also is adds life to the piece acting out scenes from Morgan's life.
These scenes are narrated by James McGonigal (Lewis Howden), a close straight friend and poet who not only helped look after Morgan in his last years but also helped him with his final poems, and it is his biography on which much of the play is based. Indeed Lochhead credits him with giving her "a theatrical scene fully formed". McGonigal receives in return a large and friendly presence in the play, although his character does seem slightly dull beside the enigmatic Eddie.
Bioplays can sometimes stray too far from the truth or be hindered by trying to be too close to the details of that person's life, Lochhead treads this line well and also more importantly there is plenty of poetry, both Morgan's and Lochhead's own. In reminding people of, and also converting those unfamiliar to Morgan's work the piece does a great job.
The many other characters including past boyfriends and flings are played by Steven Duffy a man of many voices ranging from Weegee rough trade to Ukrainian. Creating both touching moments with the gay poet and also some humorous ones too.
A perfectly timed piece of theatre, a homage to Scotland's openly gay Glaswegian poet laureate as the centrepiece to Glasgay!.
Reviewer: Seth Ewin