Edmund the Learned Pig
Mike Kenny, songs by Martyn Jacques
Royal Exchange Theatre, Krazy Kat Theatre Company and Fittings Multimedia Arts
Royal Exchange Theatre Studio, Manchester
–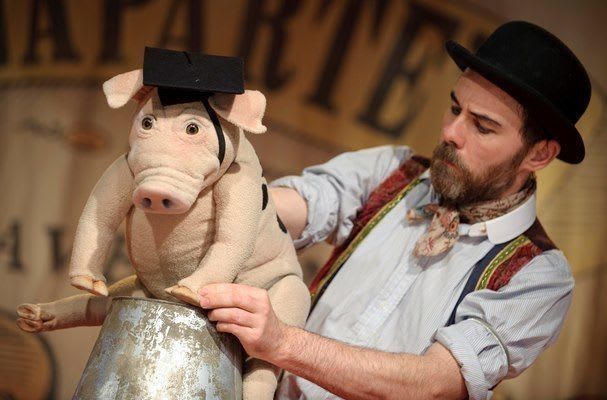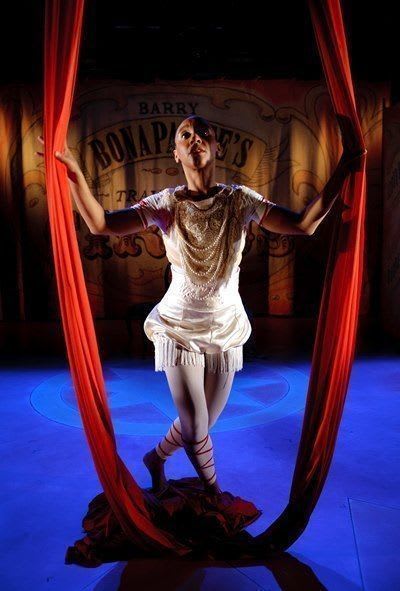 This show was apparently inspired by a song by the band The Tiger Lillies, and has songs by lead singer of the Lillies, Martin Jacques, and you can see their infliuence before even entering the Studio.
Musician Sally Clay is the bearded lady on the door playing the accordian, welcoming the audience into a theatre decked out like a faded, run-down, Victorian circus, billed on the backcloth as Barry Bonaparte's Travelling Circus, although, according to the programme, it is set in the 1920s.
The story, with most of the earlier parts told in flashbacks, concerns a pig who was the runt of a large litter but who taught himself to read and write—and to talk. He decides to investigate why his brothers and sisters are all taken away in a van and are never seen again ("butcher" is one of the few words that he can read but not understand the meaning of) so follows the van to London, ending up at the circus.
The circus owner's wife (Caroline Parker) sees Edmund and thinks of him as food, but Bonaparte (Garry Robson) thinks "ker-ching" when he sees a pig who can read, write and talk. The circus isn't doing too well, with a memory man (Kinny Gardner) who has lost his memory and an aeriel performer (Annette Walker) who has acquired a fear of heights since her fiancé dropped her from the trapeze and subsequently disappeared.
There's lots of silly comedy, a little bit of audience participation and a twist on a tragic ending—and some inevitable references to the pigs in Orwell's Animal Farm. The songs are distinctly Martin Jacques compositions with their repeated musical and lyrical phrases, dubious rhymes and a dark sensibility, but obviously not as dark or as sex-obsessed as those of the Tiger Lillies.
The story, however, is fairly slight and the dialogue superficial and functional. Much of the humour is very predictable and disappointing, with the sort of gags and comic business you might expect from a show aimed at well below the 8 years and over recommended for this show.
There are some strong highlights, the main one being a great character of the title pig, created by Scott Brooker and expertly manipulated and voiced by Anthony Cairns, a co-creator of the wonderful Shockheaded Peter with the Tiger Lillies, with which he toured internationally between 1997 and 2005. Also, Annette Walker as Aeriella performs some impressive tap dancing with Edmund, and later overcomes her fear of heights to do a full silks act, which is so much more impressive when it is close enough to hear the rustle of the fabric—and scarier when she drops to hang upside down.
The two collaborators with the Royal Exchange, Fittings and Krazy Kat, specialise in disabled-led productions and mime and signing respectively, and disabled and deaf actors mix with non-disabled performers without the play making reference to their disabilities or being about them, which is refreshing to see. The only point where the integration doesn't quite work is when one performer is speaking to Edmund but signing for them both, which kills the pace of the dialogue.
The visual and performance style is nothing new but has been implemented quite well with some nice touches, including a great sequence of pictures with moving parts like in a pop-up book. The main problems are a fairly flimsy script with a weak structure and some predictable humour. It's hard not to look at the great basic idea and wonder what a company such as Les Enfants Terribles, which performs in exactly this style, would have done with it.
But there are some great moments and a cute, charismatic central character to keep your attention.
Reviewer: David Chadderton