Educating Rita
Willy Russell
Menier Chocolate Factory production
Trafalgar Studios
(2010)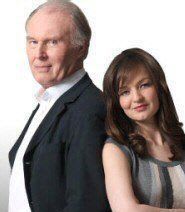 The original 1980 RSC production transferred from the Warehouse to the Piccadilly theatre and ran for two and a half years but this is the first production to come into the West End since, surprising though that seems.
This Menier production, directed by Jeremy Sams with Tim Piggott-Smith now playing the university lecturer coping with his first Open University student, runs beautifully smoothly, its scenes rapidly following each and usually linked by a bit of business with a book or whisky bottle. Back in 1980 it gave Julie Walters' career an enormous boost and now it will surely do the same for Laura dos Santos who fills the theatre with the vigour of her performance.
As the high street hairdresser who wants to make something of her life by 'getting educated' she brings exactly that vitality and down to earth reality that her tutor finds so refreshingly real compared with the dry artifice of academia. Dos Santos has eyes that sparkle to the back of the theatre, she acts with parts of her you don't notice in other performers: her knees, her shoulders and her chin. Even when she had almost turned herself into the much less exciting person that she thinks she ought to be, losing her raw honesty for a more conventional sophistication, she still generates excitement.
Pigott-Smith is a perfect partner in a role which could so easily become just supportive and self-effacing. He captures both the disillusioned, disappointed one-time creative person drowning his disappointment in drink and the delight he feels in discovering someone as true to their own selves as Rita is before she shows just how successfully she is into turn herself into what he has come to see as empty and meaningless. This is a play about loss far more than it is about gain; even as it celebrates Rita's dogged determination.
This is not just a play with a star-making role, it is a comedy that lays bare the meaninglessness of the conformist disciplines that sacrifice originality and real feeling in meeting the exam requirements of so-called higher education.
Running in repertoire with "Shirley Valentine" until 30th October 2010
Philip Fisher reviewed this production at the Menier Chocolate Factory
Reviewer: Howard Loxton