Educating Rita
Willy Russell
Ion Productions
Customs House, South Shields
–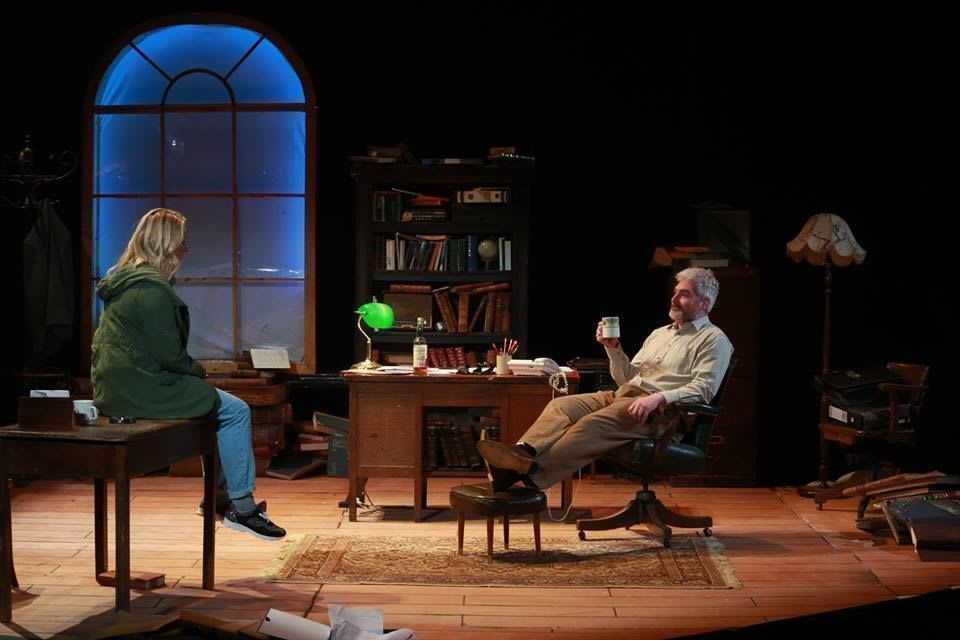 It's more than a third of a century since Educating Rita was first seen on stage, and despite Willy Russell's impressive output since, it's still arguably his best play, a two-hander of true concentrated wit, intellect and emotion.
The fact the play's become a safe bet for many companies doesn't detract from its radical instincts.
Russell evokes and examines an entire social fabric through this simple structure of the disillusioned and cynical university English lecturer Frank and his feisty young working class female student Rita, desperate to better herself through what she sees as his enviable intellectual status and knowledge.
Russell also creates one of the most vibrant female characters of modern times. Rita has such energy and raw passion for life that inevitably the failed poet Frank can in comparison at times seem an unattractive curmudgeon, erudite, but reactionary, learned burnt out, every problem answered by a swig at the Famous Grouse bottle. When Rita's in full flow, Frank can seem dragged through this play by his bootstraps.
The play was written pre-Internet, when OU students still had the luxury of one-to-one tutorials rather than interacting online. People still smoked indoors, porn was something seen only on videos, the working class sang in pubs rather than staring at the Premier League on giant screens and the intelligentia dressed up rather than dressed down for Saturday night parties.
Such incidentals apart, Educating Rita still strikes home, more so in an age when higher education has become a purchasable commodity out of the reach of increasing numbers of people. Hence widening the class divides.
Neil Armstrong directs for Ion Productions at The Customs House South Shields, with Laura Lonsdale as Rita and Sean Kenney as Frank, roles still indelibly linked to Julie Walters and Michael Caine.
Each actor is excellent and the pace and energy means the play crackles throughout as we observe Rita's transition from the blousy, mouthy but insecure working class lass to the more assured educated character wearing chic gear and able to converse on different aspects of William Blake. The question the play is always asking, and one which it leaves its audience to answer, is which Rita is preferable.
One interesting aspect is how Russell avoids the obvious temptation of his characters ever getting together, despite each having domestic traumas and despite the turbulent, highly-charged chemistry they create around one another. That would have been a separate, less interesting play. It's something Armstrong's well-paced production appreciates with just the right hint of sexual interest and danger.
Lonsdale's Rita is irresistible in her energy and vulnerability. Kenney's Frank is a study in middle-aged, mid-life existentialist crisis. The highly-charged script fires across the stage like bullets and, though we often laugh out loud, almost every laugh has a social relevance.
The bookish study set for Rita almost designs itself but was put together by the Ion's artistic director Gareth Hunter. There were not many in the Customs House main auditorium for the mid-week matinée, but small afternoon audiences these days almost seem the norm.
For some reason, two of my favourite Rita jokes, about bringing Spanish Rosé to an intellectual party and doing Peer Gynt on the radio, are missing, but I may be the only pedant to worry about such things.
Reviewer: Peter Mortimer