Educating Rita
Willy Russell
Liverpool Playhouse
Liverpool Playhouse
–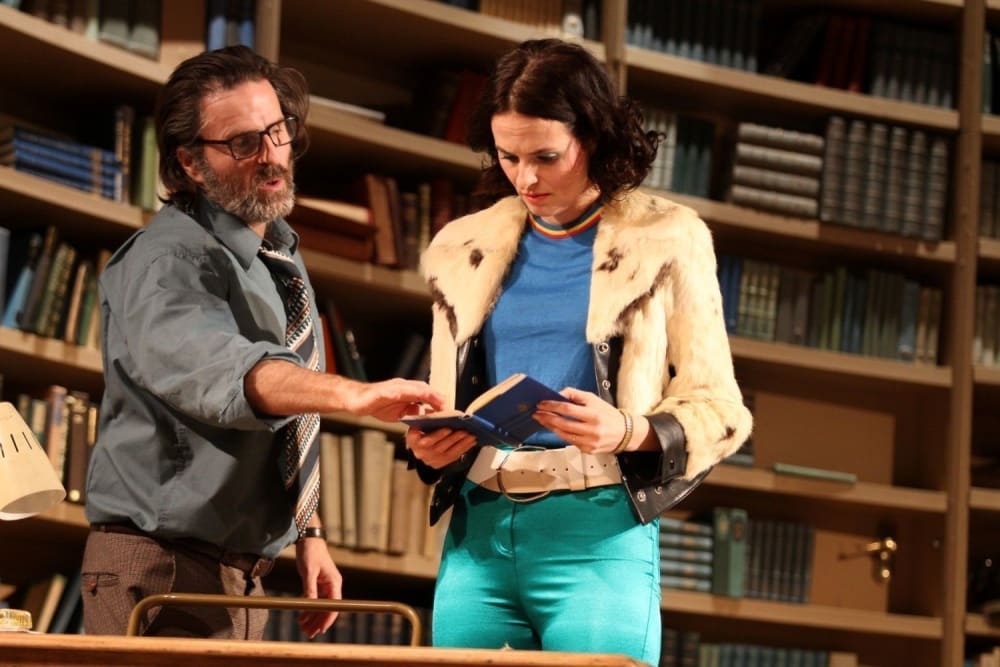 They say there's no such thing as a certainty, at least in the world of horse racing. When it comes to theatre, however, it's a different matter altogether.
For if ever there was a theatrical certainty then Willy Russell's Educating Rita is just that. Hence it's an ideal choice for the Playhouse to get back on terra firma after its Christmas production. It might not be the most ambitious choice of play, but this was a ship that badly needed steadying following that Xmas debacle.
Set in 1979, the play concerns a working class girl's efforts to better herself. The way to achieve this end is, naturally, via education. But in an era when just about everybody goes to university, it may come as a shock to some to realise that, as recently as the 1980s, the Rita Whites of this world were very often the first generation of their families to walk the hallowed path to higher education.
The Police, The Jam, The Buggles et al are all piped into the Playhouse arena, reminding us also just how fabulous the music of that era was. Nice. Projecting Thatcher and images of '79 onto a ceiling-cum-projector is as ingenious a piece of stagecraft as you will see and hey presto—we're back into that world of flux.
Indeed, Conor Murphy's set is top notch, positively groaning under the sheer weight of books, from left to right, from carpet to ceiling. Learning has never seemed so oppressive. Until that is Rita White blusters in through the doors for her weekly tutorials, literally a breath of fresh air in this staid environment.
Without doubt, the key to this play is Rita, or more precisely finding the right actress who can portray the glorious swagger, rough edges, together with a certain degree of innocence and occasional fragility. In Leanne Best, the Playhouse has found such an actress.
It's somewhat of a cliché to say that such and such an actor imbibes a role, but what the hell, sometimes only a cliché will suffice: Miss Best is Susan 'Rita' White. It's a powerhouse performance, packed with energy, vitality and exquisite comic timing. You could swear you've seen this gal down the ASDA of a Saturday, haunting the frozen pizza aisles dressed in naught but her onesie. Larger than life. And some more.
Best is ably supported by Con O'Neil in the role of jaded OU lecturer Frank, a man torn between his role as an establishment puppet and a growing cynicism of the very system in which he operates. O'Neil's brittle, careworn academic is spot on.
The beauty of Educating Rita lies in its multifarious readings. On the one level it's a fairy story: a transformative tale of the ugly duckling who blossoms into a beautiful swan. It's also a political allegory in which the downtrodden masses realise their huge potential and usurp their supposed superiors. It's also a critique of ideologies such as education and the assumptions that underpin it.
As such it asks the audience to ponder over some pretty profound questions. The debate between intuitive versus formalised knowledge is just one of many such questions.
Educating Rita has been delighting audiences since it first came to the stage in 1980. And it's easy to see why. The play oozes charm. It's well over 30 years since an apologetic Rita first told her tutor that she had always thought Yeats was a wine bar. Judging by the chuckles and guffaws, the humour is wearing well.
After the interval the mood is not as light. The pupil starts to question the master. To use another cliché—oh what the hell, in for a penny—you can hear the proverbial pin drop as the relationship becomes more fluid, fractious even. Time moves on and so it seems, do people.
Okay, so it might not be the most radical choice of play, but it is certainly a play, in the words of the song, guaranteed to raise a smile. Put simply, this production is a winner. So, rush out, empty the piggy bank, raid granny's mattress, get the mortgage cash, because Educating Rita is a dead cert.
Reviewer: David Sedgwick