Educating Rita
Willy Russell
Chichester Festival Theatre
Minerva Theatre, Chichester
–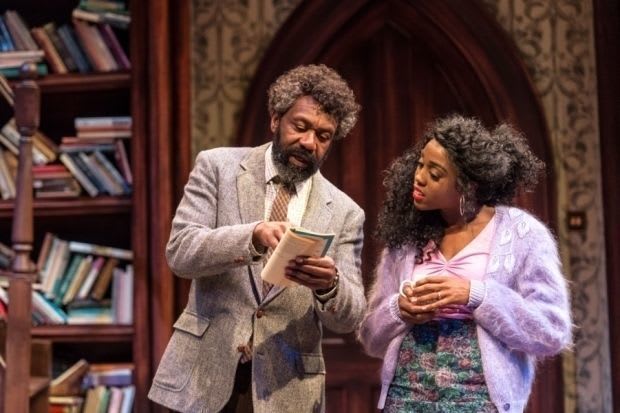 "Is this it? Is this the absolute maximum that I can expect from this livin' lark? And that's the really big moment that is. Because that is when you've got to decide whether it's gonna be another change of dress or a change in yourself."
This is Lashana Lynch's Rita, aged twenty-six and married to a man who wants nothing more for her than to have a baby and settle down to a humdrum life with no prospects for change or self-improvement. Rita, though, wants to learn 'everything', to be an educated woman and have a choice in her life instead of being dictated to by others.
Willy Russell really gets into the minds and feelings of women (well he used once to be a hairdresser where all secrets are revealed) and knows that, like Shirley Valentine, we all have our dreams. There comes a time when you either follow your dream or you give in and accept the status quo. Both Shirley and Rita do something about it.
Lenny Henry's Frank is the drink-sodden professor that Rita chooses for her Open University course and if anyone can shake him up a bit and give him a new perspective on life then she can. No ordinary submissive student, she has firm opinions of her own and is not afraid to voice them.
It took me a little while to become used to the characters—Michael Caine and Julie Walters were so intrenched in my mind—and no, it's nothing to do with the fact that they are black. That is totally irrelevant. They are just different and it wasn't long before they became 'real' and the story took over.
Something I never expected was to see Henry at a loss for words, but, with vast amounts of quick-fire dialogue to remember, he did actually dry at one early point in the play and had to leave the stage.
Brave and stalwart professional that he is, in a few moments he was back, ready to do the scene again, and from that moment perfect, but however good he is as an actor (and he is good) this play and performance belongs to Lynch. Admittedly she does have the stronger part and she makes the most of it.
I don't recall ever seeing her before, but she's quite a girl and ready for anything taking Lenny's short disappearance in her stride and coping with multiple changes of clothes, wigs and moods with speeches delivered in strident Liverpudlian accent, except for one attempt to speak 'properly' to Frank's annoyance.
As Rita progresses through her education, her thirst for learning takes her to different worlds and Lynch faultlessly captures each mood of the journey, at one point feeling she is between two cultures and not belonging to either.
Sadly, as Rita progresses, Frank sinks further into depression and misery, his only consolation being the bottles carefully concealed behind the relevant books, but Rita has a surprise present for him—there is at least hope, and she is now an 'educated woman' and has choices in life.
It's a very, very funny play, the dialogue, direction (Michael Buffong) and performance see to that, but it also makes you think about your own life and aspirations and how it would have been if you had taken a different path.
Reviewer: Sheila Connor