Educating Rita
Willy Russell
Richmond Theatre
–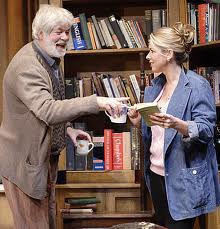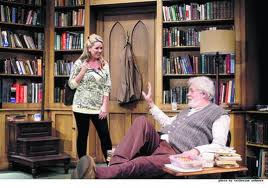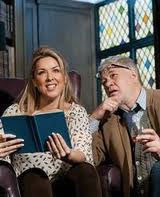 Over thirty years on from its original production, during which time it has never been out of production somewhere in the world, Willy Russell's Educating Rita remains a slight but quite delightful thing, a warm, wry two-hander that charms and beguiles even if it doesn't go that deep. First seen at the Menier Chocolate Factory in 2010, Tamara Harvey's brisk, enjoyable production now undertakes a national tour. And, as its memorable heroine might proclaim, it's dead good.
The story of a disillusioned Open University professor, Frank, and the street-smart, motor-mouth Liverpudlian hairdresser, also dissatisfied with her lot, whom he tutors on an Open University Literature course, Educating Rita benefits from Russell's broad but nuanced approach to characterisation and a considered but not heavy-handed approach to its themes of class, learning and self-fulfillment.
At its weakest, Russell's writing can become over-reliant on quips and one-liners. But at its best—as here—it has genuine humour and insight. Pleasingly reminiscent of Pygmalion and Born Yesterday, the play's snappy but satisfying scenes chart the shifting dynamic between Frank and Rita, the latter craving the learning that the former has pretty much decided is useless.
As the relationship between the protagonists moves between challenge and sympathy, affection and possessiveness, the two actors acquit themselves admirably. Matthew Kelly (with a haircut and beard that give him a passing resemblance to Willy Russell himself) brings humour and pathos to his rumpled, drunk Frank (booze hidden in the bookcases). Enlivened by Rita's brassy presence, he then turns sour and bitter as he perceives his influence on her to be slipping away. Kelly's work here doesn't have the surprise of, say, his amazing Pozzo in Waiting For Godot, but it's a lively, sympathetic turn, full of nice touches.
Overcoming the embarrassment of her billing as "one of the UK's best-loved personalities," Claire Sweeney makes a persuasive Rita: nicely suggesting the character's drive, her frustrations, and her pleasure in learning as she strives to transform herself into "the sort of woman who knows the difference between C S Lewis and John Lewis," or, more seriously, a woman with increased choices and options in life. It's a fresh, charming and unsentimental performance that matches Kelly's work well.
Warmly lit by Paul Anderson, and with a nicely detailed prof's office set by Tim Shortall, Harvey's crisp production moves at a clip, despite the unnecessary inclusion of an interval. Nothing is lingered over or laboured and the play's humour and humanity ring as clear as a bell.
The production tours to Cambridge (2-7 July), Oxford (9-14 July), Brighton (16 July - 21 July), and Edinburgh (1 August-27 August)
Reviewer: Alex Ramon