Educating Rita
Willy Russell
Dukes Theatre, Lancaster and New Vic, Newcastle-under-Lyme
Stephen Joseph Theatre, Scarborough
–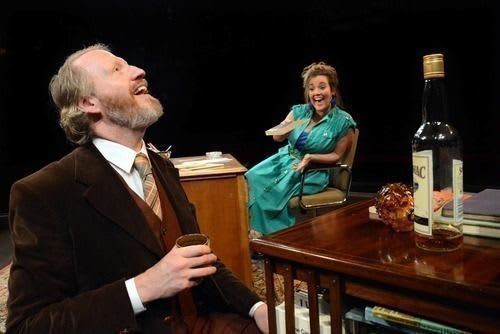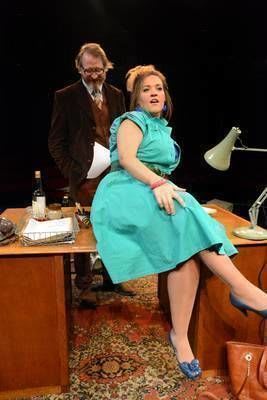 Memorably filmed in 1983 by the late Lewis Gilbert, who passed away earlier this year, Willy Russell's Educating Rita still feels fresh. A lot has changed since the play was first performed in 1980, but the play's central themes—the inadequacies of institutional education, the rigidity of the British class structure, and the soul-expanding power of literature—still feel relevant today.
Russell's play centres on the tender—occasionally combustible—relationship that builds up between a middle-aged university lecturer, Frank (Andrew Pollard), and a 26-year-old hairdresser, Rita (Lauryn Redding).
Determined to better herself, Rita goes against the wishes of her brutish husband by embarking on an Open University course in English Literature. Over the course of the play, she develops an impressive knowledge of the subject and slowly drifts away from her working-class roots.
Despite initial misgivings, Frank—a frustrated poet with a drinking problem—guides Rita through the world of literature. However, when she starts to rely on him less, their relationship begins to fracture.
Audiences familiar with the film version, starring Julie Walters and Michael Caine, may be surprised to discover that the play is entirely set within the confines of Frank's shambolic office. Fortunately, Jessica Worrall's characterful set, with its liberal scattering of books and exam papers, provides an inviting location in which to spend the best part of two and half hours.
Similarly, audiences may be surprised to learn that the play is a two-hander, with Rita's husband and suicidal flatmate only appearing in conversation. Thankfully, both performers excel in their roles, so one never tires of their interaction.
Lauryn Redding is wonderfully funny and vivacious as Rita, deftly capturing the character's desire to learn and her dissatisfaction with social expectations. I was greatly moved, for example, by the scene in which she describes her mother's sadness during a pub sing-along ("there must be better songs to sing"). Redding also demonstrates considerable talent as a physical comedian.
Equally impressive is Andrew Pollard, who captures Frank's distinctive mixture of creative frustration and intellectual arrogance. His delivery of Russell's witty dialogue is exemplary.
Director Sarah Punshon ensures that the pacing never sags, and the whole production is infused with a brisk, purposeful energy.
I wouldn't describe Educating Rita as a classic, but it manages to grapple with big ideas in a thoughtful, dexterous way, whilst being both funny and poignant. Furthermore, Punshon's lively and engaging production proves that Willy Russell's play is still worth our time.
Reviewer: James Ballands