Educating Rita
Willy Russell
Theatre by the Lake
York Theatre Royal
–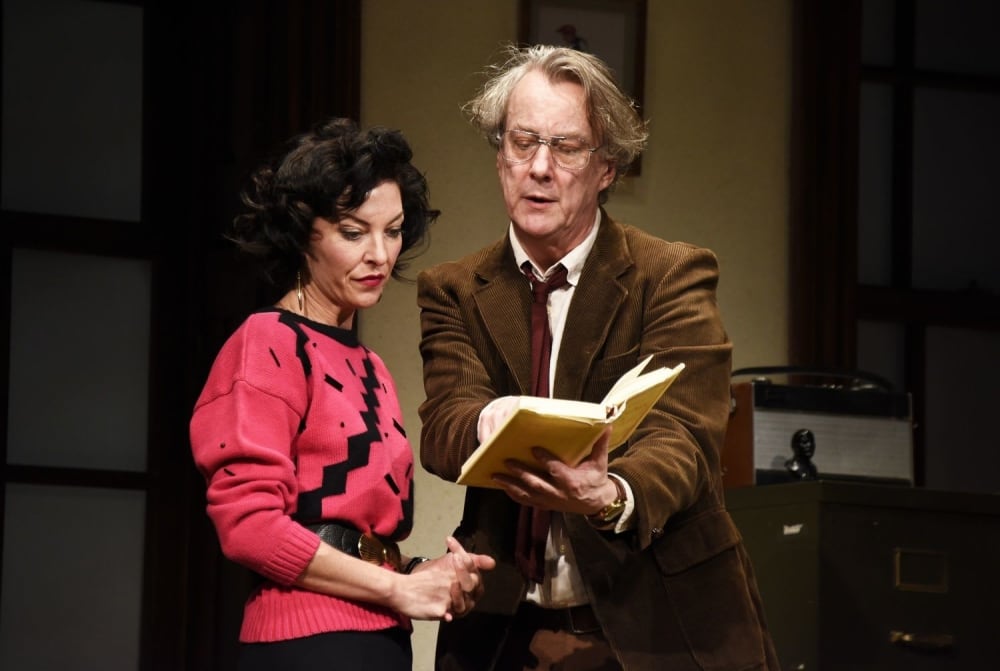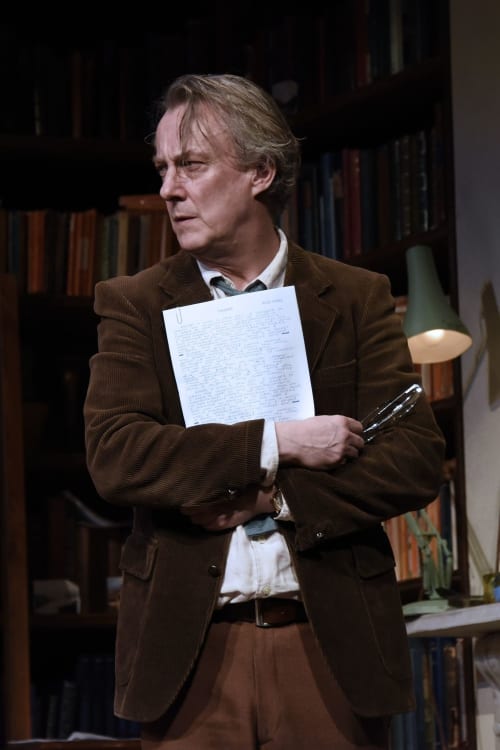 Is it really a year and a half since I ventured out to cover a show for British Theatre Guide? Is it actually (just over) forty years since Willy Russell wrote Educating Rita? And how can it be a quarter of a century since I read it?
There is a reassuring and nostalgic air about this production, which has been in the making for over two years, adapting and adjusting to the outbreak of the pandemic and shifting regulations around public performances. The packed Theatre Royal felt like a return to a kind of normal.
Russell's hugely successful play is doubtless familiar to many, from schools' curricula and the well-loved film starring Julie Walters and Michael Caine. Frank (Stephen Tompkinson) is a dissolute former poet eking out his days as a lecturer in a northern university, funding his whisky habit by taking on Open University students after hours, and lingering in the pub after that—to the frustration of his (unseen) partner. Into his office walks Rita (Jessica Johnson), who would now be referred to as a 'mature student', who puts Frank on the back foot with her directness and fierce desire for knowledge; "What do you want to know?" he asks. "Everything," comes the response.
What follows is a series of vignettes showing snapshots of this odd-couple relationship over time, as Rita (née Susan) seeks to reinvent herself yet further under Frank's tutelage, and the tutor experiences successes and moments of self-doubt in this mission as well as in his private life.
Patrick Connellan's set and costume evoke the musty beige cod-Oxbridge affectation and breezy neon acrylic of the two characters' worlds in period-accurate shorthand. Most pleasing are the shelves of recognisably vintage Penguin paperbacks which suggest the crumpled accumulation of decades of education.
The script, usually a two-act piece, has been cut astutely under Max Roberts's direction to enable a 95-minute running-time with no interval; the storytelling is streamlined but all the key moments intact. Only a couple of times does the fast pace of the production lead to perhaps jarring gear changes. The most notable of these comes when Frank finally regains the confidence to share his poetry with Rita, only to turn around and dismiss its value, with very little explanation of what moves him from one extreme to the other. Moments of artistic self-doubt are quite understandable, but we're not really shown this transition happening—it's merely that the denouement of the play demands it.
It's testament to Tompkinson's strengths that such tight motivational turning circles remain only minor issues. His performance is powerful and nuanced, hitting the comic beats of Russell's punchlines while also achieving some less predictable notes and shifts as well as a really plausible sadness and richness to the role. One thing that Rita does for Frank is to puncture his self-importance, and one of Russell's most interesting variations on the Pygmalion plot comes when Frank starts to realise that his success in tutoring Rita in accepted academic ways has come at the cost of some of her own originality of thought—thus depriving him of the fresh approaches she brought into his life at first. The complexity of the relationship is fascinating, and certainly in the latter stages of the play it's increasingly evident why the script merits re-exploration today.
Johnson as Rita also gives a strong performance: she, like Tompkinson, is always alert and responsive, and the affection between the characters drives the piece effectively. Johnson's Scouse accent I found slightly distracting, as it seemed to waver somewhat on odd vowel sounds, but her performance as a whole was rich, varied, and sympathetic without being sentimental.
This is an apt summary of the production as a whole. It is warm without being mawkish, and has enough forward momentum—and just enough sadness—to leaven the nostalgia. The ending of the play hints at the realisation that the dream of the early 1980s, of endless upward mobility, will only take its protagonists out of one dead end and into a choice of dissatisfactions.
Reviewer: Mark Smith