Education Education Education
Tom Brennan, Tom England, Emily Greenslade, Jesse Jones, Kerry Lovell, Jesse Meadows, Helens Middleton, James newton, Ben Vardy, Edythe Wolley
Wardrobe Ensemble
New Wolsey, Ipswich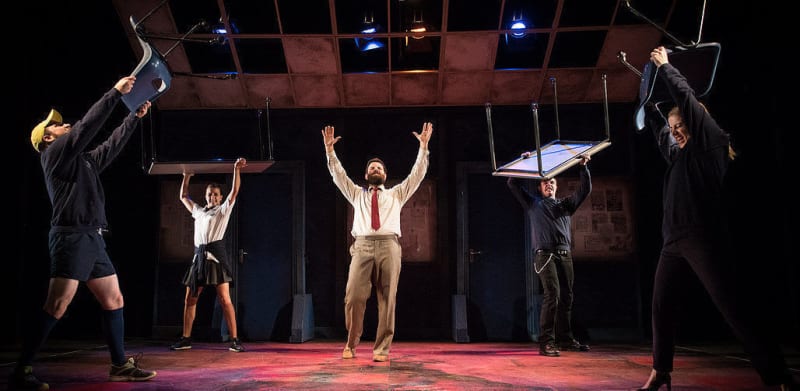 The 1990s saw the emergence of Tony Blair's New Labour and the concept of Cool Britannia, the promotion of the UK as the 'in' place to visit and to live.
Wardrobe Ensemble takes one aspect of this time—the drive to improve education standards—and has developed a fast-paced, current piece that looks at one day in the life of one comprehensive school and the pupils and teachers struggling to get to grips with what's expected of them.
Wardrobe Ensemble was formed in 2011 and its remit is to look at the 21st century through the medium of devised pieces that use ensemble work to explore the stories through script and movement.
The staging is simple—two movable doors on a open stage. The cast of seven actors play multiple roles of teachers and pupils. The piece is opened and in part narrated by German exchange teacher Tobias (James Newton) who introduces us to the rest of the teaching staff on the day in the school calendar that year 11 breaks for exam study leave.
And there is the usual collection: well-meaning English teacher Sue (Jesse Meadows) who is walked over by teachers and pupils alike, Welsh headteacher Hugh (Tom England) who thinks he's in charge but is losing the plot, ineffectual games teacher Tim (Ben Vardy), scary Deputy Head Louise (Kerry Lovell) etc.
Using a great soundscape, dance movement and interactive scripted scenes, the play tells the story of the struggle to teach in the face of lack of resources and the usual schoolkid angst against the backdrop of '90s music and references to Tamagochis, Walkmans and Take That.
Short scenes are interspersed with group routines to create a fast-paced whole that never wobbles or loses focus. They avoid the characters being stereotypes while injecting lots of humour and pathos as the day begins to unravel in what could be tragedy but is saved by a misplaced bouncy castle.
Not just a trip into nostalgia; this piece has a lot to say about the way education is manipulated by politics without getting preachy and the way those on the ground are continually let down by promises of change.
Well written and staged, a great evening of class entertainment.
Reviewer: Suzanne Hawkes