Education Education Education
Devised by The Wardrobe Ensemble
The Wardrobe Ensemble
The Drum, Theatre Royal Plymouth
–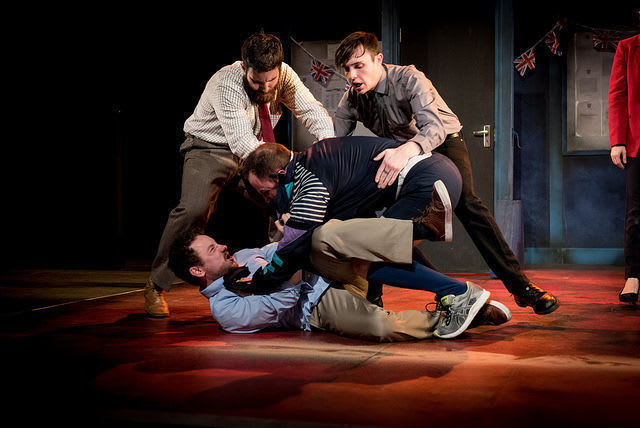 Things can only get better. Surely?
A whirlwind visit to Wordsworth Comp—on the very day New Labour took power promising funding for education education education—acutely dissects hope, politics, authority, justice, Cool Britannia and King Arthur.
With a beautifully melded mix of comedy, music, pathos and physical theatre, Wardrobe has devised a trip down memory lane punctuated by incisive but gentle political commentary and questioning the changing purpose of education.
It's muck up day: the bunting is out, an opportunely-placed bouncy castle is blocking the front entrance, Year 11s are on the rampage before GCSE study leave and it is visiting German teacher Tobias's (a spot-on James Newton) first day—and first taste of a cheesestring.
With mugs tightly clutched, teachers are assembled for a staffroom pep talk from a naïvely optimistic, ebullient head (Hugh Mills) whose passion for the verging-on-special-measures school, complete with 20-year-old temporary classrooms, fails to enthuse the wonderfully stereotypical ragtag collection of staff.
Jaded history teacher Mr McIntyre (Tom Brennan) has much on his mind—the all-nighter watching the votes roll in over a pepperoni pizza plus an unprecedented moment of celebratory passion with disciplinarian, grades-seeking, Roboassistant head (Kerry Lovell)—and a feisty teenager petitioning for his dismissal is the last thing he needs just now.
Emily Greenslade (herself) may be a challenge: rude and unruly but oh so bright and feeling much maligned. Teetering on the edge, she is in the wrong place at the wrong time, her actions are amplified and draw focus to the perennial question of common good v individuality in the school system.
The library plants are in the loos, there's jousting and ensemble Macarena in the playground, PE teacher Mr Pashley (Ben Vardy) is mourning a confiscated Tamagotchi and no one is interested in happy hour at the pub. Yet.
Put-upon, child-centred, still-keen Miss Belltop-Doyle (Jesse Meadows) is going off-piste and off-syllabus to evoke a love of all things literature with dramatic consequences. As a lack of discipline threatens her job, she releases her inner Spice Girl as an inopportune canteen collision and fall from grace epitomise the plummeting standards and all that was yet to come as the promised cash injection failed to vaccinate against erosion of ideals.
Lucy Sierra's sparse set relies on precision timing from the accomplished ensemble as doors open and twirl, tables and chairs slide and just nine players populate the school with pupils, staff, ditzy receptionist, imagined parents and governors. Add some really naff '90s music, contemporary references and there is something for everyone. A fun and thoughtful 85 minutes.
Reviewer: Karen Bussell