Education Education Education

Created by The Wardrobe Ensemble
Trafalgar Studios 1
–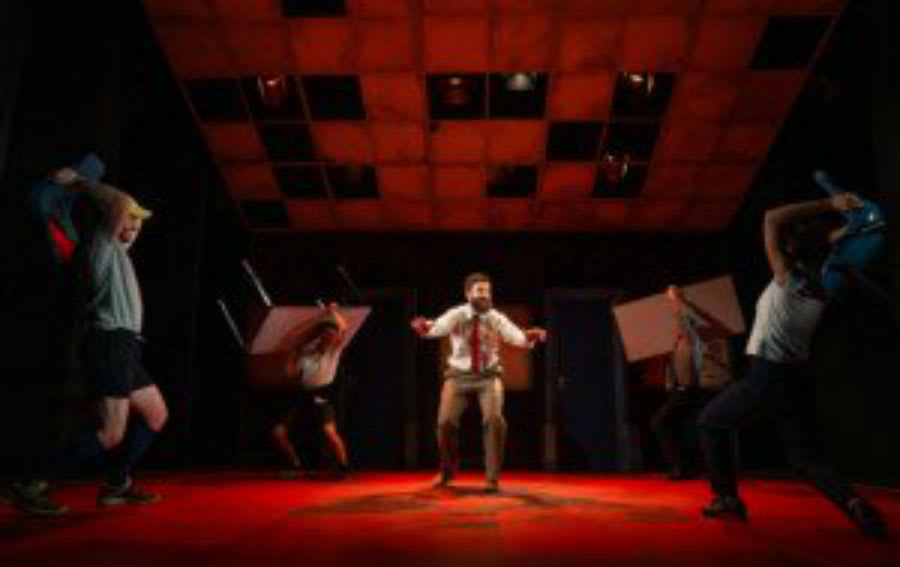 Education Education Education conjures up the hope of 1997, when, after years of Tory rule, Blair's Labour Party won a General Election.
As Tobias (James Newton), the German teaching assistant and our guide to the play's fictional Wordsworth Comprehensive describes it, this was "Cool Britannia… casting off the shackles, dancing into the future."
Teachers Paul McIntyre's (Tom Brennan) and Louise Turner's (Hanora Kamen) excitement at the television announcement of Tory Minister Michael Portillo's defeat even prompts them into a brief sexual fling.
Never mind that, later, Blair would encourage free market adventures into the public services and develop a peculiar enthusiasm for invading other countries.
This was 1997, when Blair's much-repeated soundbite was "Education, Education, Education" and the Labour Party sang "Things Can Only Get Better".
But The Wardrobe Ensemble constructed this show in 2017 and want the audience to feel the future even in their depiction of 1997. Occasionally, our guide will casually step into scenes, sometimes freezing the action, to tell us casually about the future of characters and the school.
He never changes his expression, never smiles and has a dry spoken delivery that makes Star Trek's Mr Spock seem positively ecstatic.
He may seem unrealistic, but so are all the other staff characters who merely exhibit qualities or types that supposedly crowded the education profession.
There is the amiable headteacher, proud of classes taught, liberal and finding possibilities in even the least motivated students. He will not fit with the future. Neither will Sue (Jesse Meadows) who believes in a creative progressive education she refers to as "holistic".
Instead, it will be the hard disciplinarian Louise, keen on results measured in qualifications, who will find the world belongs to her.
However, the unreal, narrow depiction of staff makes the humour seem light and obvious, so the audience laughs at the PE teacher trying to teach French and the drama class that seems to have no purpose beyond disorganised play ending in chaos.
Then suddenly, with the entry into the play of Emily (Emily Greenslade), an intelligent, articulate, school student, things come to life in a different way.
She objects to what she regards as the unfair exclusion from a school trip to York by organising a petition, by holding a sit-down protest and eventually by demanding a teacher be sacked.
In the way she speaks and acts, she is a realistic, believable figure from the future beyond 1997. She is perhaps from 2010 when school students joined others marching the streets in opposition to a hike in tuition fees, or maybe she is one of those who more recently heeded the call by Greta Thunberg, the Swedish schoolgirl, for school strikes against climate change.
The play needed more of the realism of Emily and less of the light humour that played on old stereotypes. And I wondered when such school students as Emily were going to find their place more centrally on the theatrical stage.
Reviewer: Keith Mckenna