Edward II
Christopher Marlowe
Shakespeare's Globe
Sam Wanamaker Playhouse, Shakespeare's Globe
–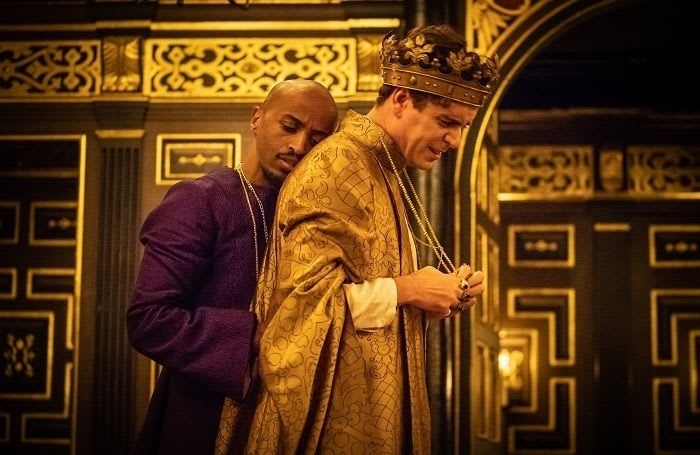 Marlowe packs twenty years of English history into a play based on Holinshed's Chronicles, but that concentrates on the opposition of the English nobility to the Plantagenet king's relationship with Piers Gaveston. After a leisurely ritualistic opening with a requiem sung over the body of Edward I, Nick Bignall's colour- and gender-blind production flies by at a cracking pace. Marlowe's "mighty line" is rarely delivered at such speed and such sense, though the frequent marking of caesuras and line-ends is noticeable.
You could say that Edward II's tragedy was his dead father's fault: it was Edward I who picked out relatively low-born Gaveston to join his son's household, thinking his conduct and military skill would offer the Prince a good example. Gaveston bonded close with the Prince, who lavished gifts and attention on him, but got on the wrong side of the King which led to his banishment. The dying King gave instructions to keep him in exile but on his accession the new King recalled his friend to his side.
That is where the play begins, with Gaveston receiving that recall and in a fine speech rhapsodises over his return to his "dearest friend", to the man who is his lover.
Gaveston certainly returns Edward's love but as he continues it is clear he also loves the luxury and the artistic entertainments of Edward's household and has thoughts of revenge against Lord Mortimer and his son who led the opposition to his return and even now are warning the King he'll have rebellion on his hands if Gaveston is allowed to remain.
The Archbishop threatens excommunication on the one hand, on the other the Queen is pressured to speak for Gaveston, but Edward further angers the rebellious lords and Gaveston fatally falls into rebel hands.
Edward then takes up another favourite and at first he seems to be winning in his war against the rebels, led by Lord Mortimer (who has become intimate with the Queen), who routs him and Edward is imprisoned and murdered, though when his teenage son succeeds him Mortimer is executed.
Though there is a flurry of fighting across the stage, Marlowe isn't interested in battles: a border war against the Scots, culminating in defeat at Bannockburn, gets little reference. This is a personal story of a king who is more interested in his personal life and loves than statecraft, though the rebels may cite what happens in the royal bed, that concerns the rebels much less than the influence it gives to someone less noble and how it affects their own power in the kingdom.
In the intimacy of the candlelit theatre, this feels more like a family affair than a countrywide conflict. A colleague in the interval called it a middle ages Eastenders, but its protagonists include royals, the Archbishop of Canterbury and lords with private armies.
It is a strong cast. Tom Stuart's Edward is likeable and easygoing if people would let him alone; he comes to extra life when Gaveston is with him or even in his thoughts and Beru Tessema makes his seem to be true love. Katie West's Isabella in comparison seems rather shrill and shrewish, an understandable reaction to her displacement. Jonathan Livingstone makes Mortimer a very human enemy, a ruthless opportunist but no more a monster than do Annette Badland, Sanchia Warwick, Polly Frame, Richard Cant and Richard Bremmer as other lords.
Text and some characters have been cut, but there is still some busy doubling with Colin Ryan following his Bishop of Coventry with the loving Spencer and then young Prince Edward and there is a particular irony in Beru Tessema playing both Edward's lover and his assassin.
This is a restrained production that carries the action through the audience, its candlelight manipulated to concentrate attention and create tension that makes the occasional theatrical flourish doubly effective.
Reviewer: Howard Loxton