Eggs
Florence Keith-Roach
Orphee Productions
Vault Festival
–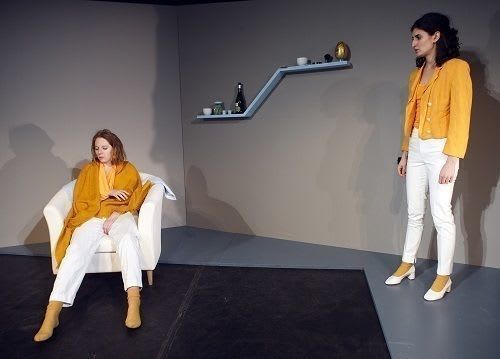 Eggs. A cod's-roe thread of nits, knotted into your hair, which can only be eradicated by submerging your head in a bucket of vodka. A gargantuan chocolate feast in celebration of Christ's resurrection. A life force growing inside you… or, in a test-tube.
In this oestrogen-infused, metaphor-heavy two-hander by Florence Keith-Roach (whose Love to Love to Love you was a critically acclaimed sell-out at the 2015 Vaults Festival), Girl 1 and Girl 2 have broken through the egg-shell which cocooned them at university, and now struggle to find their way through the maze of expectations—society's and their own—that is young adulthood.
Girl 1 (Keith-Roach) is an 'artist' but her creative spirit lies dormant and unfulfilled in a capitalist world which chains drones to their office chairs in nine-to-five slavery. She oscillates between depressive inertia and murderous inclinations to 'do cruel things to strangers'. A product of IVF herself, she fears barrenness. She walks dogs to pay the rent, but when her defiance wilts she imagines joining the drones.
Girl 2 (Amani Zardoe) is ready to take on the world. She has the man and the sex-life, a high-flying career in finance, and a body honed to perfection in the gym. On the surface she's confident, successful and sociable; but as she flits from job to job and panics about her popularity, it's clear that she's no less insecure about who she is and who she will be.
Their relationship is an unstable blend of competitiveness and compassion. Brought together by university, bound by memories of a mutual friend killed in a car accident, at first the two twenty-somethings seem to share a comfortable familiarity. They 'get' each other, and don't need to censor their thoughts.
They banter about mephedrone and masturbation, pubic hair and pop culture, lattes and loneliness. But, over the course of the year that unfolds, the two Girls seem to have less and less in common other than sardonic wit and mounting antagonism; the cracks in their friendship become crevices at the same time as their own identities fragment under the strain of self/society-scrutiny.
Their bickering juxtaposes banality and pathos, flippancy and sincerity, as shopping lists segue into suicidal angst. Roach's script fizzes with sharp one-liners, acid exchanges and effortlessly assimilated topical references which convey the sometimes overwhelming burden of societal pressure which weighs on young lives. The dialogue sustains a fine balance between, on the one hand, self-aware knowingness and irreverence, and on the other, candid vulnerability and desperation.
Despite the text's quasi-Wildean virtuosity, the performances that Keith-Roach and Zardoe offer are entirely lacking in pretention. They have a slick stage-chemistry and, to a sound track of '90s pop hits, they convincingly depict the unfathomable complexities of female friendship—the hormonal riots and resentments, the simmering jealousies, as well as the uplifting moments of unspoken empathy and unbreakable loyalty.
The creative team (Orphee Productions) have produced a visual design that extends the central metaphor. The Girls dress in a variety of white and yolk-orange combinations, and the costumes are set against a plainly adorned duck-egg blue background. The structure is episodic and occasionally there's a slight disjunction between the realism of the episodes and the abstraction of the form. But, on the whole, the swift pace and the credibility of the characterisation hide any cracks.
Only the ending seems less than persuasive. Girl 2 is pregnant, proud and excited. But, she is forced to confront the truth of her frenemy's prediction that her man will be less than overjoyed about the prospect of fatherhood, when he complains that their one-year relationship is too brief, that she's too impulsive and passionate, and urges her to have an abortion.
Though initially determined to embrace single-parenthood, Girl 1 convinces her to put practicalities ahead of ball-and-chain martyrdom. After all, she's not against abortion, "only vegetarians who eat eggs". The two Girls recognised that their friendship, however flawed, is real. They bond in a moment of intimacy in which pain is acknowledged and shared; but, the shift from conflict to compassion is joltingly fast, and the allusion to their dead friend feels a little contrived.
That said, it's clear that, while they may not have sisterhood sorted, they at least have each other.
Reviewer: Claire Seymour