Elegies for Angels, Punks and Raging Queens
Bill Russell and Janet Hood
Chrysalis Theatre Company
Shaw Theatre
(2010)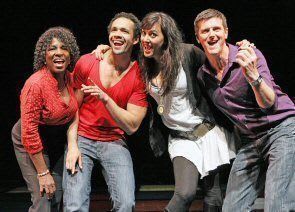 Jonathan Larson tackled the issue in his musical version of La Bohème and now Rent has become one of the most well loved and well known of all modern musicals. Elegies for Angels, Punks and Raging Queens isn't quite a musical, more performance poetry meets cabaret, but it too centres around the serious issue of AIDS.
A diverse range of characters from a variety of backgrounds are presented before the audience. We meet mothers, daughters, homosexuals and heterosexuals as they battle with grief, anger, hatred, love and lust. The one thing they all share in common? They are all victims of AIDS. The problem with Russell's text is that its rhyming is rather clunky and actors struggle with its phrasing, but who can blame then when at one point 'hair' is rhymed with 'queer'? Those who stress the rhyme, rather than try to ignore it, come off better, but it still appears awkward and does not give the show any rhythm, which was presumably intended.
At first the monologues are interesting, but as they continue, 24 in total, they become more and more tiresome and some are almost identical. It doesn't help that John-Jackson Almond's direction is unimaginative and so each monologue is delivered in a spotlight by a stationary actor staring straight at the audience. Once delivered the characters retire to seats scattered the around the stage and become bathed in what ultimately becomes a rather clichéd rainbow of coloured lights. The second half fares better with those seated slightly responding to each monologue being delivered, but ultimately the stage remains static and leaves the production lacking from much direction at all, let alone choreography.
A piano, cello and harp accompany the musical numbers with beautiful simplicity. Janet Hood's music and Bill Russell's lyrics are the strongest aspect of the show and a cast recording would be a welcome addition to any music fan's collection. Of the four vocalists, Leon Lopez is most definitely the strongest. His performance commands the stage and his voice is a joy to listen to, but the singers are not the intended thread running through this patchwork quilt of a show, and so the production comes across as somewhat disjointed with a song thrown in here and there for good measure amongst individual tales. Elegies would benefit greatly from more interaction and integration between the singers and the actors, especially as the show's main moral is that HIV can affect us all, regardless of race, gender, age or sexuality.
This production is being staged to help raise awareness of HIV and AIDS, with £5 from every ticket sold going directly to the Terrence Higgins Trust. One of the most poignant moments of the evening was when one character said that in South Africa, politicians are even more useless than husbands. Politicians and those in power are the targets of much anger and frustration in Elegies, with another character cautiously warning about the danger of budget cuts. Elegies for Angels, Punks and Raging Queens does its part in helping to raise awareness of this terrible virus and the Terence Higgins Trust must be most grateful for Chrysalis Theatre Company's help and support in spreading this very important message.
Running until 28th August 2010
Reviewer: Simon Sladen