Elektro Kif
Bianca Li
Bianca Li Dance Company and the Dance Touring Partnership
Northern Stage, Newcastle, and touring
–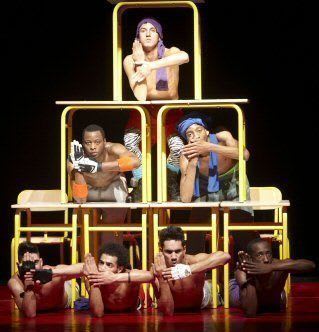 Street dance has given birth to a vast range of styles and Electro is just one. It originated in France at the beginning of this century and, like its siblings, has strong elements of hip-hop. Its focus is on the upper body and, in particular, the arms and shoulders. It has the same high energy and athleticism as its siblings and, like them, is primarily an individual form.
Bianca Li is a choreographer and director who trained with Martha Graham and Alvin Ailey and has worked in a wide range of dance styles, from classical ballet through flamenco to street dance.
Put the two together and what do you get?
A fast-moving 70 minutes of fusion between electro and contemporary dance which exhilarates, impresses and often amuses but the whole is ultimately less satisfying than its individual parts.
The piece follows a group of students through a day at college, beginning with an introduction to each one, establishing a clear characterisation which unfortunately is not maintained in subsequent scenes, except where the character and the dancer have similar characteristics.
Nor is there any kind of narrative arc beyond simply following the students through the day: arriving, sitting through and occasionally taking part in a lecture, playing basketball, having lunch, sitting an exam, the end of the day. We see some interaction between groups and individuals—it is in these "scenes" that we see most clearly the contemporary dance influences—but they do feel disconnected from the rest.
All that said, however, the talent and skill of the dancers cannot fail to impress and individual sections are great fun. The mainly young audience was very enthusiastic and applauded long and loud at the end. Such a shame, then, that the whole piece doesn't quite hang together.
Touring to Sherman Cymru, Cardiff; Lighthouse, Poole; Southbank Centre, London; Warwick Arts Centre, Coventry; Brighton Dome Corn Exchange; Oxford Playhouse and Hall for Cornwall, Truro.
Reviewer: Peter Lathan