Elephant
Dodgy Clutch in association with the Market Theatre, Johannesburg
Theatre Royal, Newcastle, and touring
(2008)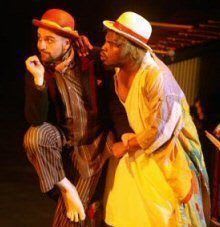 At the 2000 Edinburgh Fringe I saw a children's show by Dodgy Clutch called An Elephant Called Slowly. It was about an elephant which appeared in the film Born Free and ended up in Regent's Park Zoo. Then, at the 2005 Fringe, Dodgy Clutch took a show called Elephant to the George Square Theatre. Both were, for me, five star shows. Both featured wonderful body puppets, African music and dance and a simple but moving story. Now, after further development in South Africa and the UK, the show is to tour to a further eight number 1 theatres after its opening run in Newcastle.
Sometimes something seems to happen to one's critical faculties at the Fringe. There are superb productions there, but the majority are OK, some mediocre and some awful, so I sometimes wonder if critics tend to react more positively than perhaps they should to good productions because most of the time (and, remember, that we can be seeing up to seven shows a day) they see so much that, to be brutally honest, wouldn't even get near the theatres which they normally frequent.
But there are great productions to be found on the Fringe and revisiting then merely confirms just how good they are. Gregory Burke's first play, Gagarin Way (2001), was one such, as, more recently, was Black Watch.
So it was with great interest that I went to the Theatre Royal to see Elephant. In Edinburgh I saw it in a 466-seater theatre, sitting in the middle of the second row. Here I was in a 1300-seater theatre and sitting to the left of the dress circle. Quite a contrast. How would it shape up?
The answer is, very well indeed. It's longer now - about half an hour has been added - and those thirty minutes have been mainly used to expand the story-telling aspect, making the narrative line clearer. The elephants have grown in number, too, and what superb puppets they are!
So, what's it all about? Chief Zanenvula dies and stands at the gates of Heaven, expecting to be admitted. The keepers of the gate (looking remarkably like nightclub bouncers) refuse him admittance and tell him to try later. They then explain that he must look back over his life and find out where he went wrong. Aided by an angel but hindered by the very plausible devil in red bowler hat, frock coat and striped trousers, this is what he does.
The story is told through dance (African, ballet and contemporary), music, mime, physical theatre and dialogue, together with some narration by the Chief himself. In other words, it's a simple morality tale presented with tremendous verve and enthusiasm. Like its cousin, the South African version of the Mysteries by Mark Dornford-May and Charles Hazlewood, it is a joyous show which clearly appealed to all sections of the audience, from the primary school groups to the regular senior citizen matinee attenders (and even cyncial critics!). It has its dark moments - when one of the elephants was shot there were anguished cries from the schoolchildren - but the simple message that true repentance, no matter how bad the crime (for Chief Zanenvula had not been a good man in life, as he is forced to realise), will bring forgiveness is probably the ultimate feelgood message.
It is very much an ensemble piece and the mixture of South African and European performers work very well together but it has to be said that, just as William Booth believed he had the best tunes, the devil has the best lines, in this piece at least, and Pady O'Connor (the single "d" is not a typo!) uses his Commedia dell'Arte training to the full. It has to be said that the show had not really bedded in properly yet - the press performance was only the second (the same morning) and the previous day's tech had overrun to such an extent that essentially the morning show had been the dress rehearsal, but the hiccoughs were minor and the show was thoroughly enjoyable.
And it must be emphasised that no puppets were harmed in the performance. Why else is there an angel in the cast?
At Newcastle until Saturday 1st March, then touring to Truro, Wimbledon, Cheltenham, Birmingham, Coventry, Basingstoke, Sheffield and Edinburgh.
Reviewer: Peter Lathan