The Elephant Man
Bernard Pomerance
A Lyceum production
Lyceum Theatre, Sheffield, and then touring
(2008)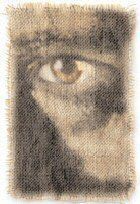 Sheffield Theatres is justifiably proud of their current production, The Elephant Man, directed by Ellie Jones, returning after her previous successful visit in association with Ellen Cairns the designer of this Victorian setting in a Victorian theatre.
John Merrick, played excellently by Joe Duttine without any vestige of prosthesis or built-up body shape, believed that his mother was frightened by a circus elephant when she was carrying him, prior to his birth in August 1860. This was as good a theory as any to account for the grossly abnormal freak who survived until aged 28 years.
One watches a series of rapidly altering scenes, like those packs of cards that one flicked through offering a dramatic kaleidoscope of events, starting with the description of the young Merrick, with Joe Duttine representing piece by piece the abnormalities in his arm, leg, face and head resulting in the only activity he was suited for, a part in a freak show, from which he earned £49.19.2d which somehow passed to the freakshow owner, leaving him destitute.
He is fortunate in meeting Dr Treves who arranges for his admission to The London Hospital, long known for its philanthropic attitude towards the indigent, and he captures the attention of the well-to-do, seeking interest and excitement outside the normal social round. He is able to satisfy his needs to have a normal response to others who until now had decried his appearance and assumed he is animal-like in his behaviour and needs.
A sad, and very well managed meeting with Dr Treves, elegantly played by Antony Byrne, and Catherine Kanter as Mrs Kendal, offers the Elephant Man the only opportunity he is likely to have of a view of the opposite sex.
The many other parts are integrated effectively, linking for example, the pompous Bishop and the freak show manager in the person of Clive Hayward, and Carr Gom (Paul Moriarty), the fundraiser patron of the London Hospital, with the boat conductor, resulting in a moving, and at the same time, damning indictment of the way any kind of disability was treated in Victorian times, and about which the situation has not always changed greatly today.
Touring to Clwyd Theatr Cymru, Hackney Empire and Richmond Theatre
Howard Loxton reviewed this production at the Hackney Empire
Reviewer: Philip Seager