Elizabeth I—Virgin on the Ridiculous
Howard Coggins and Stu Mclouglin
Living Spit
Exeter Northcott Theatre
–

Listing details and ticket info...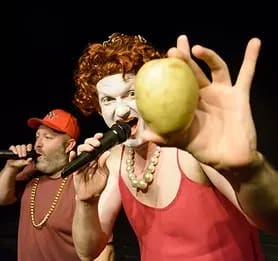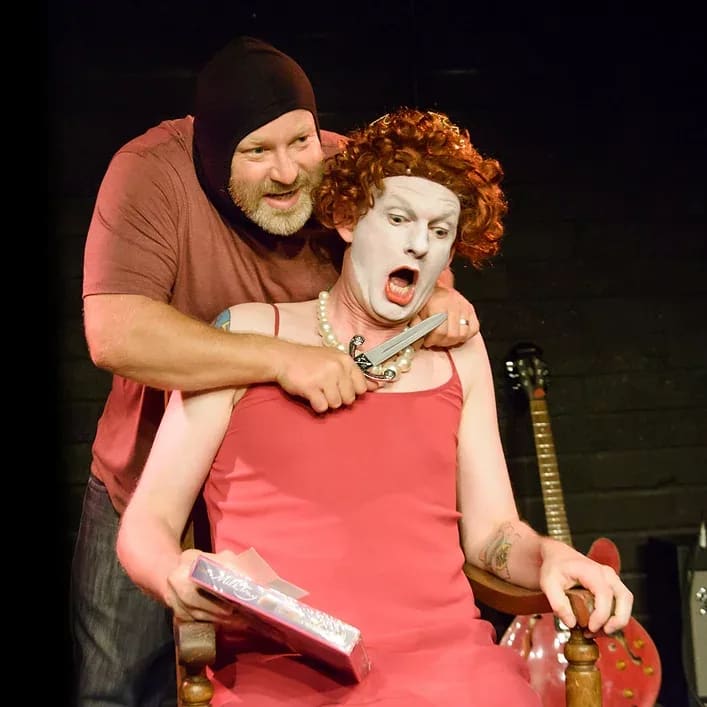 So why wasn't history this much fun at school? Drag queen, royal hermaphrodite (complete with stubble), Plot Watch, cute charismatic explorers, Ginger Bastard cocktails, kick ass armour, awesome pirate guys and hot-off-the-quill lyrical death speech… fab, funny and great music. Stand by for a gushing review.
Howard Coggins and Stu Mclouglin's breathless romp through the reign of Elizabeth I opens with a hormonal Bloody Mary reflecting upon mass murder, cocktails, a phantom pregnancy and the perennial problem of her slim-hipped half-sister locked in the tower.
An untimely natural death and Lizzie hits the throne with lifelong best buddy Bobby (Sir Robert Dudley), Master of the Little Pony, at her side and suitors aplenty leaving ansaphone messages galore.
Destined to rule, Mcloughlin's tattooed Lizzie may be flat-chested but she has the heart and stomach of a King, and a string of pearls (and had a bit part being shot in the face by Eddie Redmayne—and incorrect credits—in Elizabeth: the Golden Age). A swift induction by William Cecil, 1st Baron Burghley, in HR and she is on the throne, crown akimbo with 116 offers of marriage and a dismal future vision of popping sprogs and flirting with widowed brother-in-law Philip to avoid invasion.
There are many unavailable gift-bearing heartthrobs (all played by versatile Coggins); derring-do; the boats, guns and palaver of the Spanish Armada; and a resolute Virgin Queen, powdered and wigged, never kissed or fondled, facing down cunning collusion and innuendo-ridden conspiracy from cousin Mary Queen of Scots thanks to bongo-playing Spymaster extraordinaire purveyor of confectionary Francis Walsingham cracking the Chumbawamba / Babington code.
The humour is madcap, honest and smutty; devices clever (the Dear sparkly Diary segments a brilliant mechanism for relaying inner thoughts) and the music genius. Coggins has a tremendous voice—whether as a rapping Sir Walter Raleigh, a heavy metal James I or ballady Bobby—and playing live is always a hit.
Touring the West Country until July, Living Spit's latest hysterical heritage historiography is an engaging 90 minutes of great entertainment for not all the family.
Reviewer: Karen Bussell