Elmina's Kitchen
Kwame Kwei-Armah
Quays Theatre, The Lowry, Salford, and touring
(2005)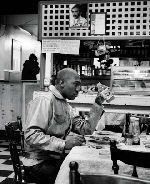 Kwame Kwei-Armah is best-known as the actor who played Finlay in TV's Casualty, but he now has a growing repertoire - and reputation - as a writer. Elmina's Kitchen, the result of a National Theatre commission, opened at the Cottesloe in May 2003 and earned the writer the Evening Standard Award for Most Promising Playwright. For this National Theatre / Birmingham Rep tour, Kwei-Armah has stepped into the lead role of Deli.
Deli runs a West Indian café in Hackney called Elmina's Kitchen (after his mother), but he struggles to get customers and even to cook decent food, and, although the constant presence of local hard man Digger keeps away the protection racketeers, it also keeps away customers. His life and business are both turned around when Anastasia walks in and takes a job at the café, helping Deli to turn it onto a West Indian fast food café. Within this simple story, themes about father-son relationships - four generations of Deli's family are involved in the story from his father to his son's baby - gun crime, peer pressure to conform and cycles of violence and retribution, particularly amongst young black males, are integral to the play.
The play is beautifully written with some great use of naturalistic but lyrical language, jumping between West Indian patois, London English and US-influenced black street talk, and the characters are distinct and well-drawn, both in the writing and in the playing. Occasionally the language and accents made it difficult for me to understand what was being said, but this was not often a problem and didn't stop me from following what was happening - plus the raucous laughter at some of these moments indicated that it was not a problem at all for some people.
The acting performances are all excellent. Kwei-Armah plays Deli with great subtlety as he tries to balance his own participation in the world of crime and violence, mostly through his association with Digger, with his attempts to save his son, Ashley, from getting mixed up in this world. Shaun Parkes plays a very cool Digger who can become sinister and violent in a moment when the situation calls for it. Michael Obiora is wonderful as Ashley, caught up in a need to conform with his clothes, language, the way he walks and the use of guns and violence to get respect. The loud but intelligent Anastasia - the only female influence - is played superbly by Doña Croll, who brings out fully both the humour and the sadness of the character. Don Warrington plays Deli's father Clifton; in act two, his switch from a hilarious drunk act to a sinister character who uses people to make a point is quite chilling. Finally, Oscar James completes the company as Baygee, initially mostly as a comic character but with some serious moments later on.
Angus Jackson's production is slick and well-paced, and Bunny Christie's design works perfectly, with a cleverly subtle change from the original café to the slightly classier fast food outlet between acts. Live music is provided before the play begins and between scenes by musical director Rory McFarlance and West African musicians Juldeh Camara and Atongo Zimba, which is great and certainly adds to the atmosphere of the production.
This is an excellent production of a well-written play that deals with a mixture of current and universal issues. Although the audience was mostly white on the night I went, there was a higher proportion of black spectators than would normally be seen at any of the larger theatres in Manchester, and, judging from the enthusiastic audience reactions, its appeal extended across any racial differences.
"Elmina's Kitchen" runs until 26 March and continues to tour before a West End run
Steve Orme reviewed this production when it began its tour at Birmingham Rep and Philip Fisher reviewed the West End transfer at the Garrock.
Reviewer: David Chadderton