The Emperor's Opera
Written by Michael Duke, devised by the company
Benchtours
Traverse Theatre, Edinburgh
(2005)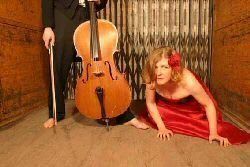 With its title most likely a play on the story of The Emperor's New Clothes, this tale about a politician who, in his hunt for a bit on the side, tells a lie about a newly discovered opera that doesn't actually exist, is charming and farcical. At times it lacks focus (judicious cutting could probably have eliminated a twenty to thirty minutes of this two-hour performance), but this is forgivable in light of how well it keeps the audience entertained.
In the programme, composer Pete Livingstone describes the process of being involved in developing the musical side of the piece at the same time the company contributes to the development of the play. The Emperor's Opera benefits from a well-integrated score, with Robin Mason's cello playing as Alexei serving as far more than just a point on which the plot can turn.
Although there are brief moments of tremendous theatricality - an introduction from Mason, as well as tableaux and dance-like interludes which recall moments from work such as Matthew Bourne's Play Without Words, overall the production is (while clearly a farce) quite naturalistic and would be well suited to film, rather than stage.
As Askinya Stosslova, Rocio Galan plays a shrill, short-tempered hotelier who, while she might not put Basil Fawlty to shame, could certainly teach him a lesson or two. She balances the humour, absurdity, and humanity of her character to maintain a sympathetic connection to the audience. Steward Ennis is another highlight of the production, playing multiple roles - unfortunately there's not much one can say about the parts without giving away one of the major twists of the second half of the play.
But it is Mason who really shines in this piece; his lines may be few but his expressions are an ongoing delight, often provoking laughter with a few simple muscle twitches.
Although Catherine Gillard camps it up marvelously as failed actor Milinka Dmitrievna Yeletsky, and as Maria Oller gets off a few zingers as Ludmila Kutuzovna, other actors don't quite hit the high standard of performance set by the first three.
These points aside, The Emperor's Opera is interesting and engaging theatre. It's not the most challenging piece, and it doesn't quite succeed in exploring the issues it's trying to discuss in new ways, but it's a fun, easygoing romp which will entertain both mainstream audiences and regular patrons of theatre.
.
Reviewer: Rachel Lynn Brody