Enchanted April
Mathew Barber based on the novel by Elizabeth Von Arnim
The Mill at Sonning
The Mill at Sonning Theatre
–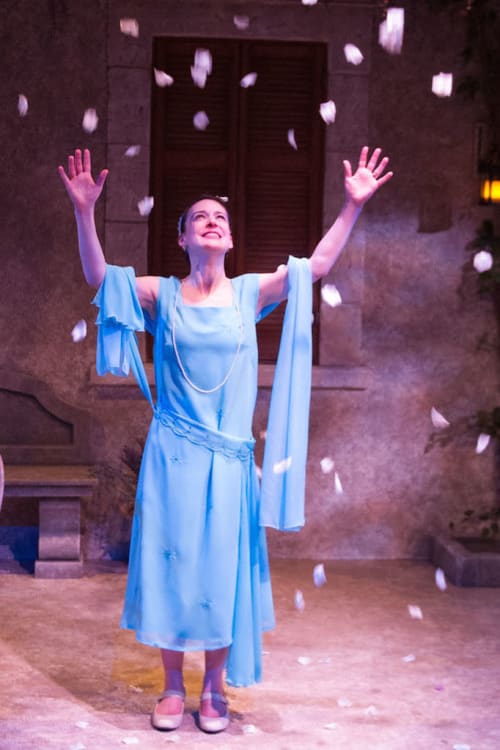 American playwright Mathew Barber's Enchanted April, based on Elizabeth Von Arnim's novel, receives its UK première at the delightful Mill at Sonning. It is a charming production with an outstanding cast skilfully directed by Sally Hughes.
It is set in the era just after the First World War when women were demanding to be heard and to lose the shackles of the male dominated society in which they are forced to live.
The play starts off slowly in a grey, wet, wintery London reflected in a simple, stark set design by Eileen Diss as the characters are assiduously introduced.
In a ladies' club, the frustrated Lottie Wilton is looking for some excitement to escape her mundane married life. She is attracted to an advertisement in The Times to rent a castle in the Italian sunshine that promises "wisteria and sunshine". All she needs is three other female holiday companions to help to share the costs.
Sarah Edwardson gives a passionate, enthusiastic performance as the spirited Lotty. She entices the reserved, troubled Rose Arnott, beautifully captured by Melanie Gutteridge, to be her co-host in this foreign adventure.
They are joined by the austere, acerbic Mrs Graves, impressively played by Hildegard Neil, who can create instant fear with just one withering glance.
By contrast, Francesca Bailey is the whimsical, flighty Lady Caroline Bramble, who wishes to remain alone and harbours secrets.
The second act explodes with colour and light as we are transported to the Italian villa where tensions abound as personalities begin to grate between the characters, but the sunshine and freedom begins to release their inhibitions.
Anna-Maria Everett gives a wonderful performance as the hilarious housekeeper Constanza, full of fun and with just a little touch of sarcasm as she tends to the needs of her guests.
Christopher Leveaux as the attractive young owner of the villa makes a surprise visit and he charms all of the ladies, particularly Rose, in a spirited performance.
When Rose and Lotty's husbands arrive, the plot reveals some unexpected twists and turns. Jai Armstrong is the avant-garde up and coming author struggling with his relationship with Rose, and Martyn Stanbridge is Lotty's stereotypically stuffy solicitor who reveals rather more than expected following his explosive bath.
This is a heart -warming story where the characters find themselves. It's an evening full of hope and joy and highly recommended—bellissimo.
Reviewer: Robin Strapp