End of the Pier
Danny Robins
Park Theatre (Park 200)
–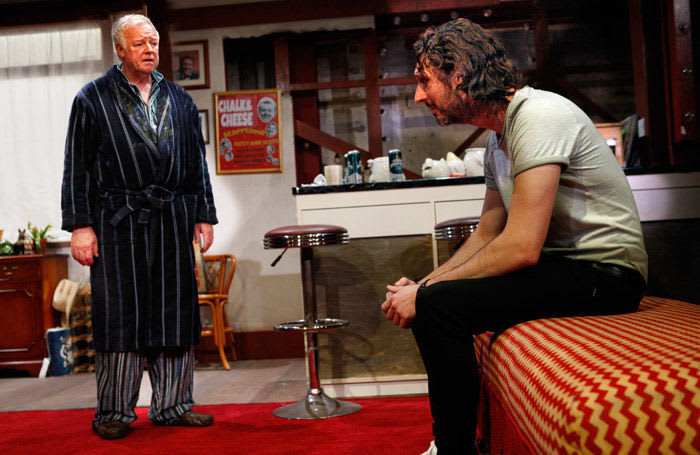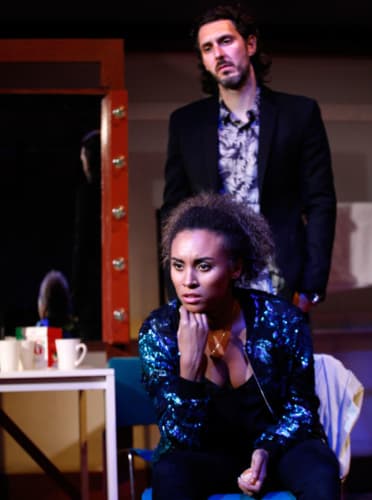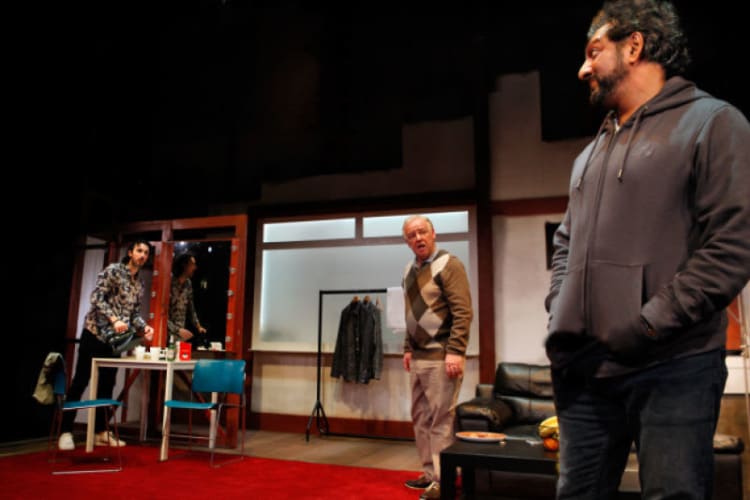 The sounds of a variety show in progress, the Tower's Wurlitzer organ and seagulls set the scene as being Blackpool where comedian Bobby has lived since he moved his family here when his career collapsed after a Guardian journalist caught him cracking a racist joke to a Macclesfield audience.
From a TV audience of 20 million with his partner in their Chalk and Cheese double act, he's now down to just panto dates. Now, long after his heyday, he is watching his successful son Michael's more contemporary comedy show on the goggle box.
Danny Robins's play looks back at what used to be thought funny and at what today thinks acceptable, the feelings of those who are its targets, its victims. Bobby saw himself as a man bringing a bit of joy into working class lives, his humour not hurtful because it wasn't directed at real people but stereotyped foreigners, mother-in-laws, wives but that wasn't the way his son saw it.
Michael is getting married to Jenna, who is black and a commissioning editor for comedy at the BBC and she's recently pregnant. His brand of "observational" humour and his private life make him seem textbook PC but now he turns up asking for his dad's help after a stag night that went wrong and it seems that's not entirely true.
Bobby, with his biscuits still kept in a Gollywog jar that he rapidly hides from Jenna, never meant to be offensive; his jokes weren't directed at real people.
End of the Pier is a serious play that has lots of laughs (including two stand-up comic acts) but amid the laughter it is also putting its finger on society's inherent racism. As it explores how comedy and attitudes to it have changed it asks does it always have to be cruel.
Les Dennis is splendid as Bobby, still hurting at what happened to him, delivering the old jokes skilfully, even funnier because he suggests an awareness that they are no longer acceptable. Blake Harrison as Michael gives us an excellent stand-up set and is convincing as a celebrity worried by the exposure of some drunken behaviour but is less happy handling the rather awkwardly written other side of his character.
Tala Gouveia gives Jenna career-driven confidence but the character could come from a satire on the BBC: she has just been appointed to a Corporation Diversity Committee to provide its diversity.
Michael's problem involves a Bangladeshi called Mohammed whose son took an incriminating clip on his mobile. Bobby and Michael expect blackmail but he doesn't want money. With a neat twist, Robins provides us with another scathing comedy set that gives Mohammed his own voice and Nitin Ganatra delivers it with uncomfortable directness.
Hannah Price's production and James Turner's setting, with its black and white images of variety bills and pantomime posters in montage, create a nostalgia for the old days against which to set contemporary concerns but they don't manage to hide the contrivances of the plotting however real Les Dennis makes things feel.
Reviewer: Howard Loxton