Endgame
Samuel Beckett
Everyman Theatre, Liverpool
(2008)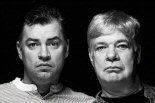 An old man sits in a gloomy subterranean room, waited upon by a misshapen servant who may or may not be his son, tormented by or tormenting his legless old parents who live in dustbins for reasons never explained. Slowly, as the play progresses, time, and the world runs out, and all the strange rituals and endless stories in this dark little world cannot prevent it.
Probably. The truth is no one really knows what Endgame's about; Beckett refused to answer questions about the play, leaving the viewer to find his own answers. The play was written at the height of the Cold War; is it about nuclear holocaust? Is it a meditation on inevitable death? The inevitable meltdown of Capitalism? Are the two windows supposed to be eyes? Are we inside the head of a dying man, watching a dialogue between the earth bound body and the immortal soul? Are the parents memories, rising to judge and be judged? Or are we witnessing the creative process, Clov rising from Hamm's mind, the old man as artist, reluctantly but inevitably releasing his creation into the world. I have absolutely no idea, and no-one else does either.
It is an shame that Matthew Kelly has carved a successful career selling Saturday night TV. He is,and has always been, a fine stage actor, sensitive, aware, with a powerful presence and deserves to be known for it. In Tina Gray and Ciaran McIntyre he has strong and certain support and Matthew Rixon has power and presence. There is a certain novelty in his being Matthew Kelly's real life son, but Rixon deserves to be judged for what he is, not who he's related to, and what he is is very very good indeed.
Jessica Curtis' set is at times genuinely beautiful, Lucy Pitman-Wallace's direction creates some quite lovely stage pictures. Despite its bleakness the play is gorgeous to look at.
There are a few puzzles; Rixon is given a sub-Chaplinesque waddle, and there's a whole essay on clowning in the script. One has a sense of horror that the production was intended to be set in a big top and this is all that remains. Fortunately taste and the text prevail, and Rixon's bizarre walk and two pages of the programme are all we, mercifully, see of clowning. As well Beckett was uncompromising with the audience, demanding attention, demanding work, creating silences and longeurs. This production truncates the silences and speeds the longeurs, a kindness to the audience which weakens the production as a whole.
Endgame is a beautiful production, a classic production, a true asset to the Everyman and one the Everyman deserves to be proud of. Like all great literature there is a sense that you have been told something vital even if you don't know what it is. Even if it takes you years to realise what it was, even if you never know, you'll be forever glad you listened.
"Endgame" is at the Everyman, Liverpool until the 3rd May
Reviewer: Ged Quayle