Endless featuring N:Dless
Kyla Goodey
Trifle Gathering Productions
The Drum, Theatre Royal Plymouth
–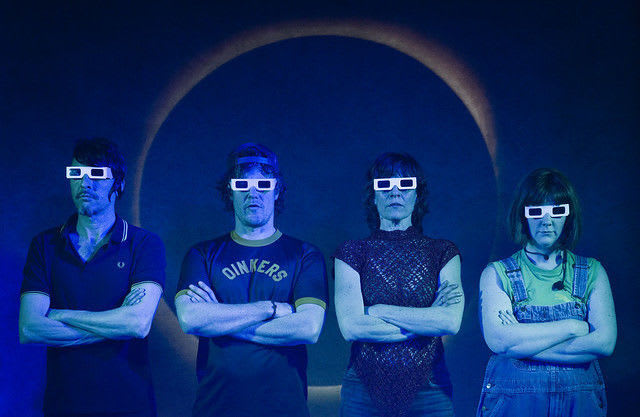 Pretentious musicians navel-gazing, in-fighting, well-known for talking about pushing a few boundaries and living the dream—or not. What is not to like?
With shades of Spinal Tap, posturing and much subtle ridiculousness (think W1A), Endless is a mockumentary featuring very little sex, a smattering of drugs and quite a bit of, rather than rock 'n' roll, electronic music.
The Cornish company prides itself on using "anarchic satire to bring the community closer through a shared appreciation of the absurdity of life". Not sure about that but Endless is indeed absurd, and irreverent and entertaining.
Charting the rise, fall and reunion of N:Dless, through vignettes of rehearsal rooms, live music, interviews and snippets from real stars such as Basement Jaxx, Haircut 100, Aswad's fifth member and Chumbawamba, it's the story of the evolution from wasp drone through folk-tronica to the dance scene—at festivals, pubs, Little Chef car parks and holiday camps as well as village halls, Guides... in fact anywhere someone will listen and feed the illusion of fame. Even a rather bloody Eurovision experience.
Malcolm (Dean Rehman) and Dave (Joe Carey) are determined to make it but their Wonky Dog duo is not cutting the mustard. Enter OCD diva Sarey (Mary Woodvine), left-out sister of The Corrs, whose folk influence ups the game. Add Eggy (Sally Crooks) whose finger on the pulse of what's new and fingers on the keyboard of electronica is the charm and the hits—"Penguins in a Sparrows Nest" and "We're Ripe for the Restroom"—start filling the dance floors and the "Fur Coats In The Desert" album actually sells.
Justin Lee Radford, Vicky Abbott and Sam Jago Coleman's music is pretty damn good with banging beats and some inspired moments while Josh Pharo's lighting and projections puts us right in the rave.
Running at an hour and a half, it is a tad too long particularly with an unnecessary interval an hour or so in but funny, clever and definitely worth a look.
Reviewer: Karen Bussell