Enduring Song
Jesse Briton
Bear Trap Theatre Company
Southwark Playhouse
–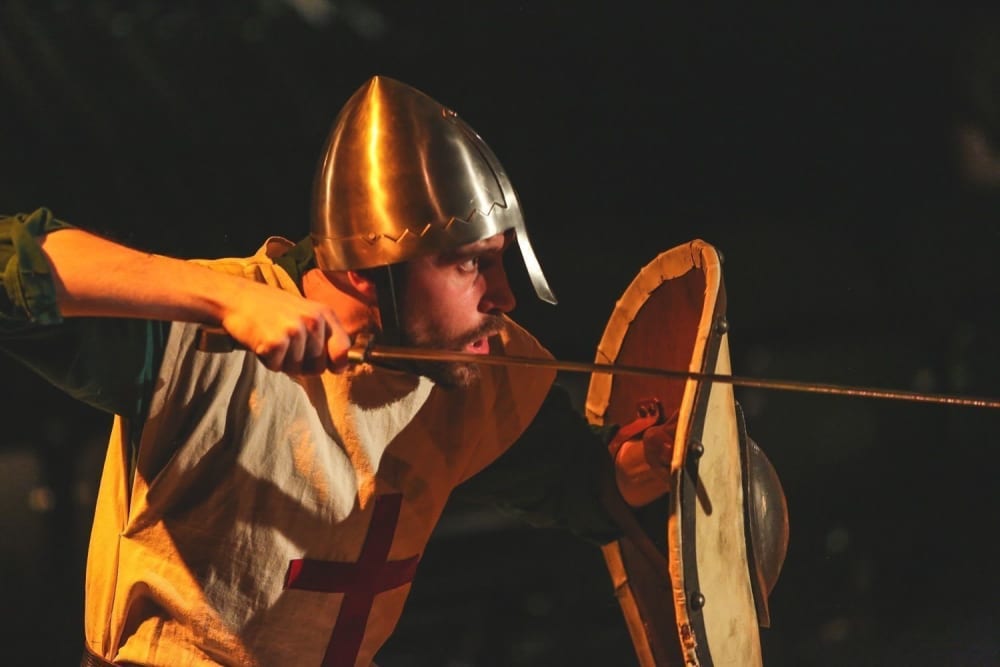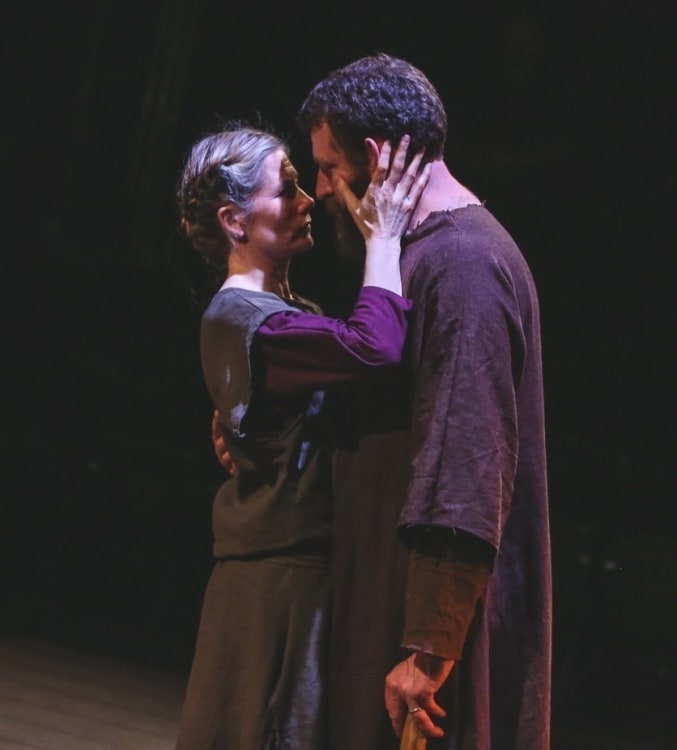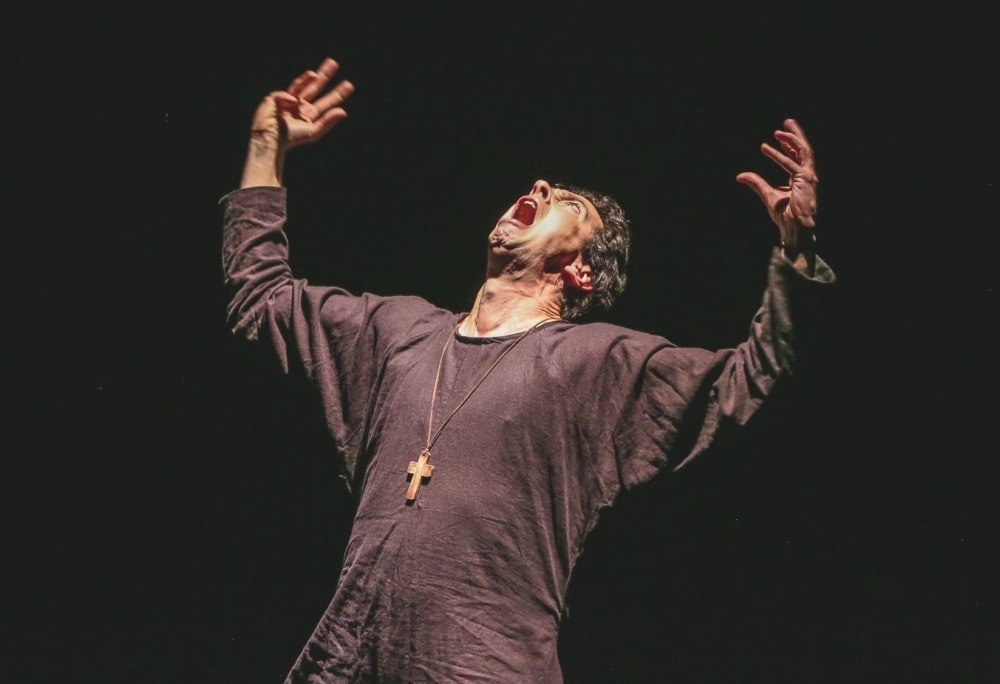 This is a tale of the crusades that follows a group of young men from the Avignon countryside from their recruitment by the Church in 1096 across Europe to the siege of Antioch and on to Jerusalem, interspersed with what is happening back home.
It doesn't set out to be documentarily accurate. It is extremely unlikely, for instance, that relatively poor country lads would have the swords and armour with which they march off.
Duke Godfrey of Bouillon leads this crusade, as he did the First Crusade in real history, but, in his Peter, Bishop of Amiens, dramatist Briton conflates the itinerant monk called Peter the Hermit, who travelled through France and preached the call to the crusade, with Peter Bartholomew, a peasant serving as a pilgrim at Antioch who claimed a vision that led to him finding the Lance which had pierce Christ's side and boosted the Christian army's morale. Most of his characters are fictional and the historical material is used to serve the purpose of the play.
Quite what that purpose is, is not spelled out. Perhaps contemporary talk of Jihad suggested the Christian equivalent as an interesting setting but, though one could find parallels in the apparent deceit of those calling the shots, I don't see any direct political comparison in what is essential a tale that questions where loyalties lie: with family, friends, self or faith, if faith one has?
In the Avignon countryside, where exhausted soil and years of drought are bringing ruin, Matthew, a farmer's son, is about to marry Jennifer, a local girl he has got with child. His supposedly mute sister Marie and his best friend George (who is Jennifer's brother) are meanwhile truly in love.
It's a household full of tension. Marie's birth caused her mother's death and their father Robert still holds that against her. Since getting a crippling injury, Robert neglects the farm, its working is organised by Anne, a servant who is secretly his lover and meanwhile the church is claiming back his land on default of paying tithes and his fractious mother seems to be drinking her way through his cellar.
It's a complex and demanding situation but things are festive at the moment for the wedding. Then into this comes churchman Peter, old friend of Robert's youth, preaching a crusade. After years without making contact he's now come recruiting. Robert's injury frustrates hopes that he would join him, but he is set on taking Matthew, and with him go George, Gaston (Anne's illegitimate son) and Hugh, who seems to be in love with Gaston.
What starts as a possible domestic comedy, with a lecherous Gaston, Hugh and George spying on the girls dressing for the wedding festivities, soon gets uncomfortable then turns into a saga that proceeds in tandem with worsening times in Avignon as dramatist Briton sets up different authority figures, a different kind of leader and shows these open-hearted country boys caught up with more experienced and self-interested manipulators.
The script may read well on the page but it is not straightforward storytelling and when spoken by some of these actors its lines often sound artificial. In the case of Alex Harland's Bishop Peter, that may be entirely intentional to mark him as a con man, coding for the audience, and it ties in with later judgement of him, but these countrymen believe him.
Briton is his own director and keeps his multi-scene play rapidly moving across a bare in-the-round stage with minimal furniture of a couple of chairs and some rugs. Many of the later scenes are played with Avignon and Antioch or Jerusalem on stage concurrently, seeking to draw parallels between them.
Costumes and candles provide most of the colour, polyphonic songs (apparently Corsican, though I am not sure where that fits in) add atmosphere. They and other sound effects and drumming are performed by the cast.
This is an ambitious, three-hour long production that drives its hard-working cast, but, although there are some strong performances, it is not easy to follow. In-the-round with hard walls all round and an angled roof may not produce the best acoustics, but Briton whips his cast into express delivery. If he was trying to cut playing time, he did it at the cost of comprehension and made things worse by encouraging his actors to shout. Sometimes there is too little projection: playing with his back to me for whole scenes, Rafe Beckley's Robert became inaudible.
This seemed very much a case where a director, over-familiar with a text, forgets that others are encountering it for the first time and need to be able to hear it clearly to understand it.
There is a delightful Marie from Emma Ballantine, mute or speaking, clear playing from Daniel Foxsmith as George and a splendidly disruptive Bella from Jane Thorne. Tom Roe had a good grasp on the character in his playing of Matthew but it paled against the storm und drang around; however, not a bad effort for his professional debut stage debut.
Kate Maravan is a sensitive Anne and her son Gaston is powerfully played by Jac Husebo with Max Mackintosh the Hugh who loves him. Their intriguing relationship in this medieval context is typical of the frustrations of this play for, along with characters such as Moncef Mansur's Ibn, a Muslim guarding a Christian basilica, an intriguing personality and situation introduced but never taken further, there are too many stories competing to be told.
Performances on 24 and 25 June will be preceded at 7PM by Enduring Song: Abandoned Youth, a short (15-minute) prequel performed by the Southwark Playhouse Young Company of 16- to 25-year-olds. Tickets are free but limited so should be booked.
Reviewer: Howard Loxton