L'Enfant et les Sortilèges / O Saci
Colette and Maurice Ravel / Miguel Kertsman
St Paul's Church, Covent Garden
(2009)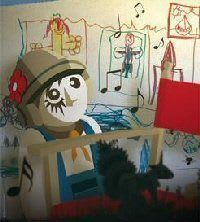 Ravel's fantasy opera presents a bored little boy who takes his frustrations out on the things around him only to have furniture, characters from the wallpaper, pets and trees turn on him until one kindly act reveals his basic humanity. I love most of Ravel's music but have always had a problem with this particular opera. It has never held me in recordings, perhaps because, apart from the lovely cat duet, I've never been able to imagine what is going on. Even a video version of the Met's production designed by Hockney failed to win me over. Perhaps I've lost some essential childishness but I just couldn't take the idea of singing sofas and trilling teapots, even though some opera singers do look like stuffed upholstery or bulbous china.
It is a relief to say that I enjoyed this version, performed by silent actor/dancers and sung by off-stage voices. It almost made it work. Musically it is quite enchanting, beautifully played and sung in a reduced orchestration transcribed for four hands at the piano, a cello and a wind player on flute, alto flute and piccolo with only ten singers covering all the roles and chorus parts. But is this opera?
Director Alexander Medem certainly gets over the problem of singing teacups. Colette originally intended her scenario for a ballet and the original 1925 Monte Carlo production, of course, had a considerable ballet element choreographed by Balanchine. There have been other entirely ballet versions, notably one by Jiri Kylian for Nederlands Dance Theatre. Medem and movement director Shona Morris present objects and animals in human form - an arm angled like a spout to suggest a teapot, for instance, though if you don't already know the story you might not make the connection. A cat and a scurrying squirrel are easily identified by their movement, though a second cat I recognized only on the miaows of that famous duet and it takes a moment to realise a couple of flamenco style dancers are representing fire - there is no fireplace for them to emerge from, instead the child strikes some matches.
This seems a fairly free interpretation and since the text is sung in its original French any conflict between the actual words and what is being presented will be obvious only to those with a good command of the language. It isn't always clear what is going on but the movement and the mood are well matched to the music and one gets the gist of the story.
Sara Lazzaro's petulant, leg-swinging Child is decidedly a little girl, though when she dons a cap her wide-eyed tomboy could be a real boy too; I'm sure all the children in the audience could identify. There is a suitable sinuous performance from Hesther Campbell's plump White Cat (in a black leotard she looks a quite different shape), even though devoid of whiskers and flaunting baubles around a wrist she is definitively feline. Others have less opportunity for clear characterisation but they perform the relatively simple choreography with a zest that matches the expressiveness of the singers.
I do wonder how many of the audience in these fixed rows of pews could see some of the action when animals or child were on the floor, a problem I am increasingly aware of at other flat floor venues with no raised seating. If you take small children try to get to the front.
The Ravel is followed by the world premier of O Saci a new piece by Miguel Kertsman which draws on a legend from Brazil, his birthplace, concerning a Saci, a spirit in a red hat who has the power to stir up the wind. He stirs things up a bit too much and gets blown to Britain (this surely a variation on the traditional story) into a deep blue pool where he meets Cai, a water spirit. She can produce rain and, with her rain and his wind to direct it, they put out a fire that threatens to consume a village. I'm not quite sure why it introduces Britain: we are not that well supplied with blue water and water sprites and I noticed no specifically British theme in the Brazilian influenced music which is pleasant enough though rather undramatic. It is a little fairytale to show how things can be achieved by pulling together.
This certainly isn't an opera: there isn't a sung line in it. A narrator (Nabil Stuart) reads each stage of the story before that section is danced out around a giant wicker tree. It is pleasant enough and nicely performed by Daniel Mutlow as the Saci, all bronzed torso flecked with gold leaf and a low slung sarong that wraps around one leg, and Naomi Reynolds' Cai, blue eye-shadowed and balletic, in contrast to her agitated animals in the first work. Its most dramatic moment is when with a stage filling with red-glowing smoke the pair send their rain past three umbrellas to put out the offstage fire. It is an attractive score but it is a slight piece and as a dramatic work it needs developing to give it more purpose.
Some lovely music making from the singers of the Syred Consort and members of the Orchestra of St Paul's under the direction of Ben Palmer makes this an enjoyable evening and colourful costumes, almost non-stop movement (no static arias in this show!) combine with the sincerity of the performers to hold most of the attention of the youngsters in the audience, though one tot who had been brought forward to get a better view did seem to dozing at my feet before the second work was over.
Reviewer: Howard Loxton