ENG-ER-LAND
Hannah Kumari
Hannah Kumari and Wolab supported by the Football Supporters' Association
Edward Alleyn Theatre Dulwich College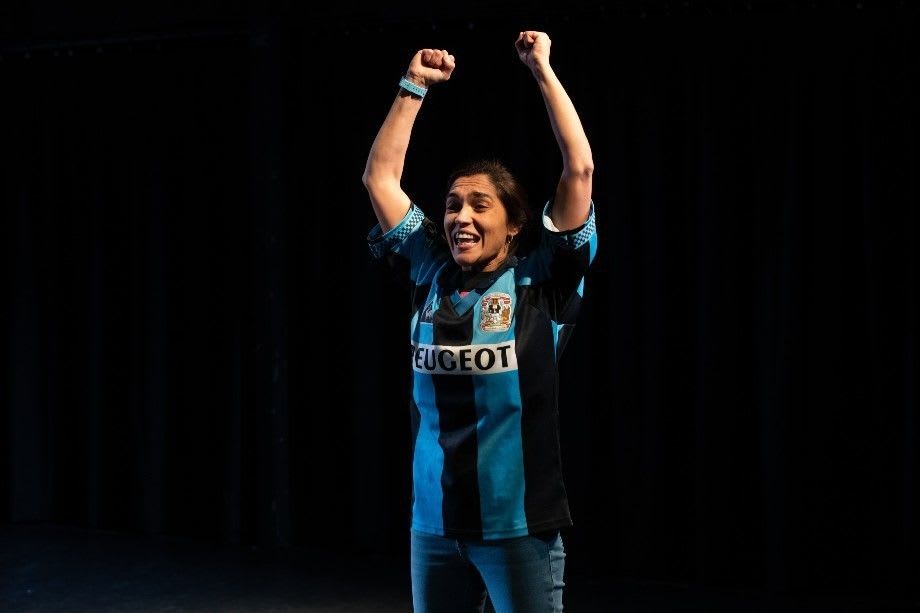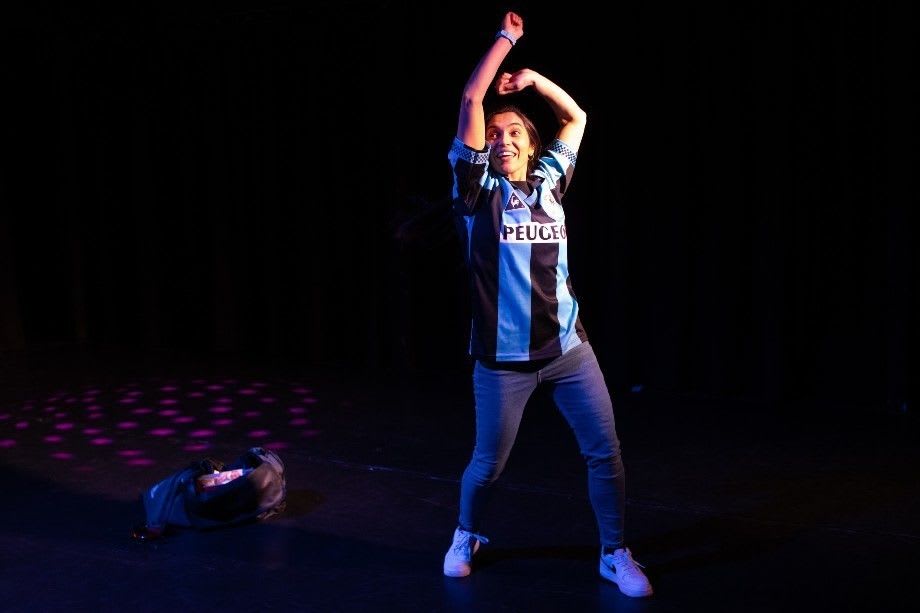 You may love the game of football, but if you are a black, Asian, or minority ethnic group football fan, then you might not feel entirely comfortable attending a live match. A YouGov survey for Sky Sports News in 2021 found 73% of such fans were concerned about receiving racist abuse. They also found 62% of match-attending fans feared "a player will be racially abused."
ENG-ER-LAND explores this disturbing aspect of the game via the sixty-minute monologue of the character Lizzie (Hannah Kumari) who speaks directly to the audience as if they are there on the great day of her trip from Rugby to see her team Coventry play Liverpool in the late 1990s.
She is dressed in black stripes on a blue T-shirt as she describes her friends Sarah and Lauren whom she intends to travel with, her family that includes her mum who arrived in Britain from India at age six and her enthusiasm for football which she usually watches from her sofa. She wants to feel English given she has lived in Britain all her life. Football helps her feel she belongs here even if a footballer of Asian heritage is a rarity. It doesn't help that her two best friends duck out of the trip to go to a party with Rachel who casually tells Lizzie she isn't invited because "you don't fit. You're a Paki."
Such moments pepper her day even though others such as her Uncle Steve object to the racism. She admits to us that she is hoping any child she has will be a lighter skin colour so they don't have the same hassle.
Hannah Kumari as Lizzie gives an enthusiastic performance that includes an impressive dance sequence. It is a thoughtful expression of important issues, that will spark many a useful discussion during its tour of the country. However, the mildly interesting descriptions of friends and family, along with the various football references that dominate the opening section, can make it feel slow and the play as a whole lacks dramatic tension. All the same, it is well worth seeing for its insight on the experience of the great game by a person of Asian heritage.
Reviewer: Keith Mckenna