Entertaining Angels
Richard Everett
Chichester Festival Theatre
(2006)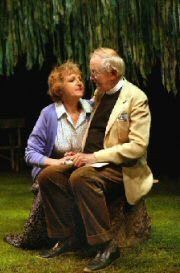 With new directors Jonathan Church and Alan Finch in charge, Chichester Festival Theatre's summer season is off to a splendid start with this sharp and witty comedy starring Penelope Keith – a name to guarantee a full house.
There is no theme to this season (last year was Con-art), giving plenty of unrestricted scope for variety, and they have certainly chosen an eclectic mix, from new to old: David Hare to Charles Dickens, and with a little Noel Coward thrown in for good measure, not to mention the well-loved musical Carousel, and a promenade production of Grimm's' Fairy Tales performed by the Youth Theatre..
This tale is one of grief, regret, lack of communication within a family, and buried secrets surfacing too late – but, with Keith's exquisitely timed performance and expert delivery, the laughter constantly bubbles to the surface giving full value to Everett's witty, perceptive and very funny script.
Paul Farnsworth's set is totally amazing – his many and varied designs have graced numerous stages of late, and this time we have a vicarage with a very lush and realistic garden. A stream bubbles beneath the weeping willow trees, and someone is actually cutting the grass – with a motor mower – the thrust stage lending itself perfectly to the arrangement.
Keith is the vicar's widow Grace, contemplating her life of devotion to duty while the new vicar and his wife (sorry – the new vicar and her husband) examine their new home. With the loss of her beloved husband life will change forever. After so many years of being the dutiful and busy vicar's wife she is now bereft of husband, home and job. What was the point of it all? Can God be trusted to do anything right "or is the whole thing a divine exercise in trial and error?" Unwilling to let go of her past she constantly converses with her deceased husband – which obviously causes her family some concern – and, as she paces angrily to and fro, feels she is now wandering aimlessly. Husband Bardolph (Benjamin Whitrow) reminds her that Israelites wandered in the wilderness for forty years. "Only because there were men in charge" she snaps back, "and they wouldn't stop to ask the way!"
Her eccentric missionary sister has arrived from Africa to support her in her hour of need, but during the sisterly bickering, recalling resentments from childhood, it is revealed that she has a thirty year old son ..by Grace's husband! This is a terrible shock, but the worst aspect is that Bardolph had never told her. Was her marriage not the fusion of souls she had imagined? "There is a time to speak and a time to be silent," counsels new vicar Sarah. Can Grace accept this?
Polly Adams is sister Ruth, down to earth and sensible, she is the one to get on with the realities of life, having had to deal with "AIDS, abortion, and domestic carnage" in Africa, and the new and caring vicar is her real life daughter Caroline Harker, whose husband Nicholas (Michael Lumsden) is determinedly attempting to have a permanent sexual relationship with Grace's daughter Jo (Abigail Thaw - daughter of John), who is trying to shake him off.
A very sharp and witty comedy perfectly paced by director Alan Strachan, and, with this superb well chosen cast, highly recommended!
Running until 27th May
Reviewer: Sheila Connor