Epstein - The Man Who Made The Beatles
Andrew Sherlock
Bill Elms and Jen Heyes Productions
Epstein Theatre, Hanover Street, Liverpool
–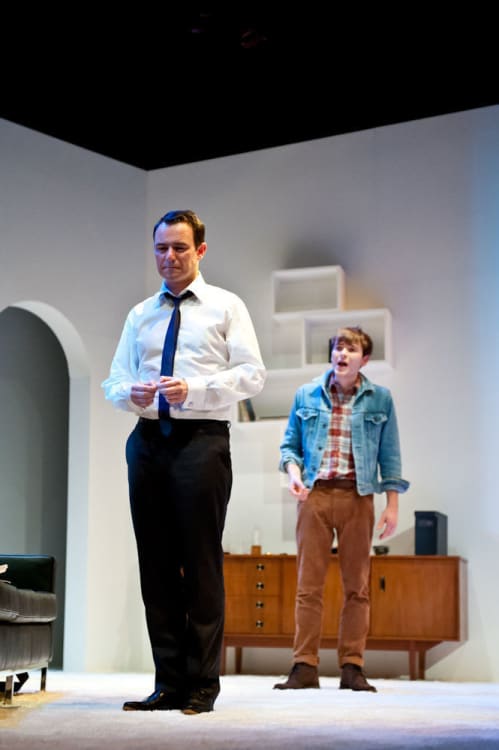 The Epstein is a warm and welcoming upstairs theatre; proscenium arch, traditional decor but with plenty of leg room.
Tonight's audience is just what you would want to see at a theatre - a range of ages and a range of dress; from smart to smart casual to casual casual (one guy has a copy of the Liverpool Echo tucked into the back pocket of his jeans). This is just as it should be for this hometown play for, as the opening monologue tells us, Brian Epstein 'was, is and always will be, one of us.'
Andrew Sherlock's two-hander has a neat premise—one night in August 1967, Brian Epstein, not for the first time, invites a young man back to his flat. This particular young man, however, has not come for sex, neither is he there to beat and rob his host. He wants to interview him—to discover the truth about 'the man who made the Beatles'.
Staged as part of Liverpool's commendable Homotopia festival, the script could make more of the period of its setting—only one month after the Bill decriminalising male homosexuality was given royal assent. The young man seems rather too comfortable in the presence of his rich, famous and experienced potential seducer.
There are some strong moments in the play, such as when Brian (Andrew Lancel) relives an experience at one of his public schools (antisemitism, snobbery, bullying and sexual tension mingle to dramatic and comic effect). The angst of the aspiring journalist, This Boy, (played with charm and conviction by Will Finlayson) when lamenting that he has just missed out on the greatest period in his city's history, is powerful and yet not pursued.
Sherlock shows awareness that in any two-handed play, dramatic tension lies in exploring the forces that alternately push the characters together and threaten to pull them apart. The elements are there. This Boy wants the interview that might get him a job (though I'm neither convinced that he wants it enough, nor that a straight boy in 1967 would really be more interested in Epstein than in the four young musicians he guided to global stardom). Epstein himself gives up rather too easily on the possibility of sex, which has effect of exposing all too readily, his underlying need—for companionship.
As with almost all writers (David Mamet might be an exception), Sherlock loves his own words (why be a writer otherwise?). The need here is for stern editing, so that the play does not close on an indulgent and undramatic monologue, rather than in the potentially heart-rending moment of action—this is, after all, the night / morning on which Brian Epstein (accidentally) takes the overdose of sleeping pills that kills him.
Jen Heyes's direction needs to be applied with a firmer hand. Too often the actors fail to mark the beats, leaving the dramatic rhythm in the script insufficiently shaded. There is also a tendency for them to kick the humour; comic lines passing before the audience has chance to register them.
The use of projection in theatrical productions is a tricky skill. Here it is used inconsistently, with no clear convention established. Before the interval, projection seems to hint at memories, desires, fantasies; an interesting notion, worth investigating. After the interval, however, the projections recreate "factual" events.
Most problematic of these is the re-enactment of an interview on American radio, in which Epstein politely rebuts Ed Sullivan's claim to have discovered the Beatles. Aside from the common issue (that of breaking the connection between audience and "live" actors), this projection also shows Lancel to be more at home on screen than on stage. His stage rendition struggles to find a centre, but on screen he gives a perfect sense of Epstein's peculiar blend of hesitancy and resolve. It's a brief interlude, but powerful enough to make us lament the return to "live" action.
Amanda Stoodley's set and costumes are simple and effective reminders of sixties style, doing what good design should: giving us a sense of time and place without getting in the way of the acting.
Despite its flaws, the production never drags. The hour and fifty minutes passes with sufficient pace and interest to have the home crowd on its feet at the finale.
Reviewer: Martin Thomasson