Equally Divided
Ronald Harwood
Watford Palace Theatre
–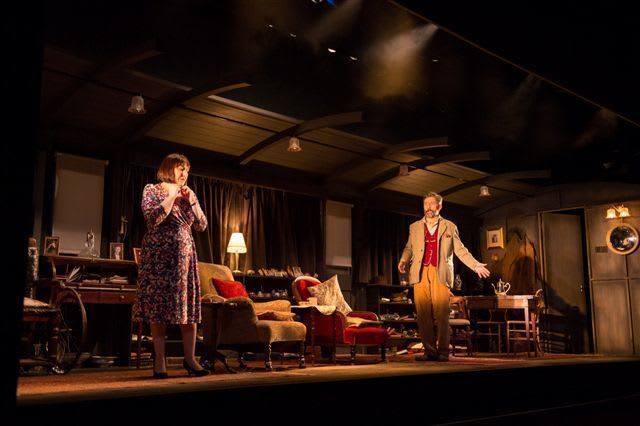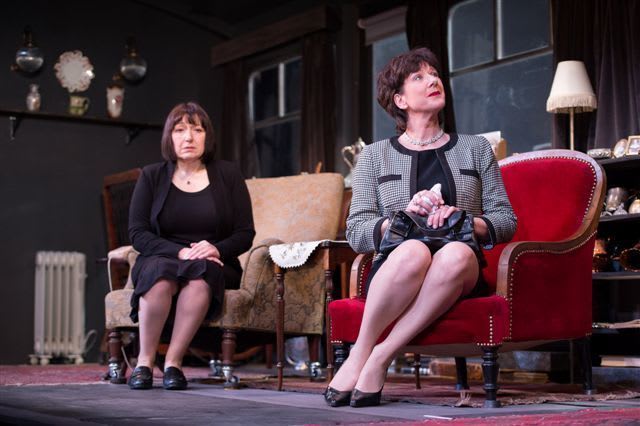 The eldest of the Taylor sisters, unmarried Edith, stayed at home, giving up her job to look after their sick, aging mama while the younger Renata flew the nest and married twice into money.
Renata was always the one who caught people's eye and now she has a glamorous life with a house at Juan-les-Pins while Edith lives in the family's converted railway carriages at Bournemouth. Even Ruari Murchison's set, stretched right across the stage, seems a metaphor in itself for Edith's situation: a journey stalled while her sister travels exotically.
A day or two after cremating their mother, the two sisters await the arrival of their mother's solicitor to find out what was in their mother's will. She told Edith not to worry, she would be looked after, and Edith saw her writing something out on a yellow legal pad and getting it witnessed, but that piece of paper can't be found.
Resentments and conflicts that have been there since childhood are all too apparent. Beverley Klein's plain, put-upon Edith is already up and organised, on the telephone bemoaning the situation before her sister swishes in, still in a dressing gown.
Opening a show with a long speech on the telephone to set the situation is a bit of a cop out on the part of the dramatist and a challenge to the actress that she handles smoothly. When she is joined by Katherine Rogers's fluttery Renata lighting cigarettes, to the annoyance of Edith who rushes to open windows, things take on a farcical element that Brigid Larmour's production exploits.
When recently-widowed solicitor, Charles Mowbray arrives almost immediately mentioning his memories of Renata and clearly captivated when she appears, having dashed off to dress before he could see her, he is once again captivated. He may bewail his loneliness but, as Walter van Dyk plays him, he still has good looks and charm: Renata comments on his "ravishing bum".
It is not long before they dash of for lunch together, but first it is revealed that Edith may stay in the railway carriage home as long as she wishes. Their mother has left everything to be divided equally between them. Renata is already loaded; it seems so unfair, thinks Edith. Why is it always her sister who attracts the men and the money?
In fact there is not that much cash but there is her mother's huge collection of antiques and objets. Edith brings in a local antique dealer while they are out at lunch, just to make sure she is not diddled by the solicitor's assessor's valuations. Self-described as "an honest rogue" and played with an edge of camp charm by Gregory Gudgeon, he helps her hatch a plan.
It is a play with plenty of laughs but there is a very real presentation of all-too-common sibling conflict and underlying everything an exploration of ethical values. It makes you think not only about the rights of inheritance but the more general disposition of wealth.
Reviewer: Howard Loxton