Equus
Peter Shaffer
English Touring Theatre and Theatre Royal Stratford East
Theatre Royal Bath
–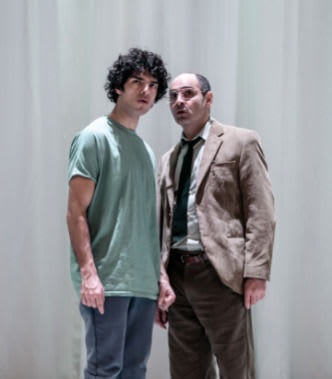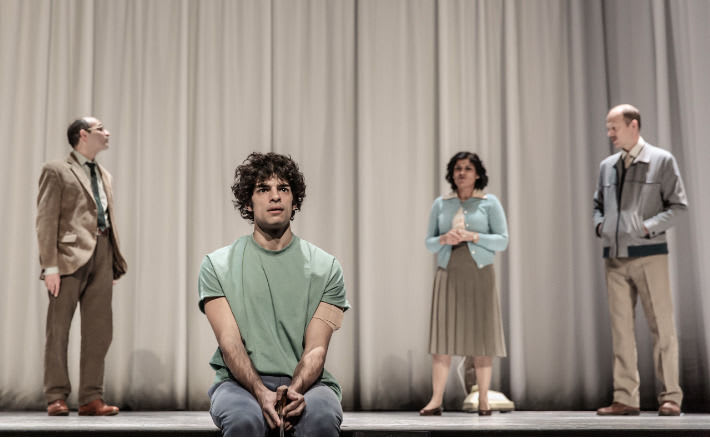 Peter Shaffer's 1973 work about a disturbed teenage boy who blinds six horses has courted controversy ever since its first staging at the National Theatre. Though this unsettling subject matter feels no less provocative today, it has become familiar through the play's revivals, notably in 2007 when Daniel Radcliffe sought to shed his clean-cut Harry Potter image along with his clothes.
Yet in English Touring Theatre's latest production, Ned Bennett's stripped back direction succeeds in casting a modern classic in a fresh light, focusing anew on the troubled character of child psychiatrist Martin Dysart and bringing an intense physicality to its staging.
Against Georgia Lowe's simple curtained set evoking a hospital ward, it is Zubin Varla's Dysart that we first see, lying crumpled in a corner. How he has been brought here is every bit as intriguing as the plight of his patient; trapped in the vacuum of a loveless marriage, riven by Dionysian cravings and smoking compulsively as he admits to a dream of carving up children, Dysart is reaching his own breaking point.
There's a compelling push-and-pull tension to his relationship with his 17-year-old patient Alan Strang, played by Ethan Kai, a seemingly typical teenager full of truculence and supressed rage who sings advertising jingles in response to questions. Dysart unravels the boy's story through a combination of trickery and revealing more of his own fallibilities than he would like, exposing a growing envy as their sessions progress. Strang responds in a series of vividly reimagined flashbacks; we learn of the preoccupation with religion inspired by his mother Dora, his father Frank's arbitrary judgementalism and his first transformative encounter with a horse on a holiday beach.
The visceral rawness of Strang's revelatory set pieces cuts through the self-indulgent verbosity of Dysart's ponderings; nightmares flay the teenager's sleeping hours, sandcastles arrive like shove ha'pennies to create a seaside and the horses are transfixing, none more so than Ira Mandela Siobhan in his muscular, athletic portrayal of Nugget. Simply clad in shorts, his movement mesmerizingly equine, he crystallises the reasons for Strang's orgasmic obsession.
Bennett does have some fun in the quivering anxiety of Dora's determined hoovering and the comical reactions of a cinema audience to a late-night porn film—pinpoints of light against the destructive and climactic darkness of Strang's spiritual compulsion. But as Dysart muses that the only mementoes his wife brought back from the Mediterranean were four bottles of chianti to turn into lamps, it's clear he regrets his marriage as one of the dead-eyed compromises of adulthood and that Shaffer portrays little joy in the play's heterosexual relationships.
Still set in the 1970s, the production's fifty-shades-of-brown wardrobe emphasises the contrast with Technicolor moments of quasi-religious sexual fervour. Far from being a simple two-hander between doctor and patient, there's a pervasive sense of collaboration, with actors dual-rolling as horses within the heightened physicality of Shelley Maxwell's movement direction and strong performances from the supporting cast. Ruth Lass is generous and far-sighted as magistrate Hesther Salomon, while Robert Fitch and Syreeta Kumar are quietly tormented as his inadequate parents and Norah Lopez Holden excels as Strang's uncomplicated lover.
This production brings a striking and distinctive new direction to Shaffer's words. Rather than being flashy for his own sake, Bennett is careful to maintain the work's integrity while uncovering nuances of meaning that recast Equus as challenging and exhilarating for a modern audience.
Reviewer: Claire Hayes