Equus
Peter Shaffer
Lyceum Theatre, Sheffield, and touring
(2008)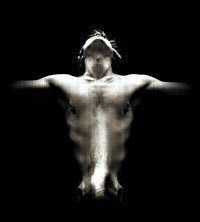 In a programme note Peter Shaffer comments on how he came to write Equus forty years ago. Its worldwide performances roused controversy - in Britain from the horse lovers and in the US by the psychiatrist users. It has now beeen revived, with minor updates, first at the Gielgud and now on tour.
Ostensibly it is staged in a stables where six horses boxes with their brightly lit bridles and head outlines await the start of the action. As the play progresses large rectangular boxes in front of the stable doors are formed into a great variety of complex situations by the actions and words of the players. John Napier, the original set designer, expresses his great pleasure in being recalled by Thea Sharrock, the current Director, to make his important contribution to this fascinating experience.
Representing the complex interactions between a psychiatrist, Dr. Dysart, and his young patient Alan over a period of some weeks, if not months, is well managed, showing the gradual gain in confidence allowing the patient to unburden his emotional distress. We become aware of the family tensions between his god-fearing schoolteacher mother (Helen Anderson), who has obvious difficulties in persuading her down-to-earth atheist printer husband (Colin Hurley), how best to bring this shut-in adolescent, played by Alfie Allen, into the real world.
It is rare for the Chairman of the Magistrates Bench (Linda Thorson) to appeal directly to her friend the child psychiatrist (Simon Callow) to take on the urgent treatment of a lad who has poked out the eyes of six horses in the local riding stables. The remaining magistrates, no doubt of the horsey fraternity, are all set to put him in prison. During the treatment interactions, it is not only the patient who exhibits evidence of emotional disturbance, but we also identify the doubts and deficiencies in the master-mind who has to appear all-powerful, indeed god-like, to bring about the defeat of the Horse God, Equus.
One cannot pass over the excellent performances by the six horses, with Michael Taibi having two different horse roles, and the remainder excellent in their posturing, neighing and disturbed responses, while the stable maid Jill (Laura O'Toole) does a good bit of grooming of horses and the boy, Alan.
As fresh as the day it was first written, this performance well, deserves its recreation.
At the Lyceum until 19th April, then touring to Brighton, Bradford, Bath, Malvern and Richmond.
Peter Lathan reviewed this production in Newcastle, as did Allison Vale in Bath
Reviewer: Philip Seager