Eric and Little Ern
Devised by Ian Ashpitel and Jonty Stephens, featuring material by Eddie Braben, Dick Hills and Sid Green
Seabright Productions
Vaudeville Theatre
–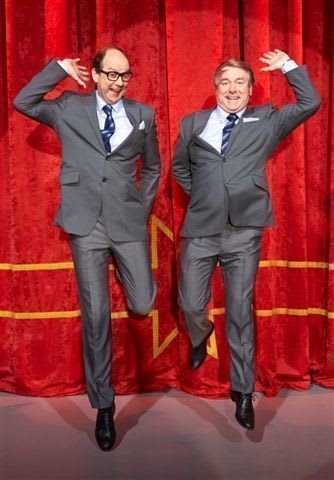 Eric and Little Ern are, of course, that wonderful duo Eric Morcambe and Ernie Wise. This laughter-packed show, expanded from its first successful launch on the Edinburgh Festival Fringe, now comes into the West End after a tour.
Shortly before his sad death earlier this year, Eddie Braben gave permission for Ashpitel and Stephens to use some of the material he wrote for Morcambe and Wise. Scripts of other writers of the duo's original material are also used by permission of their estates, but this isn't just a restaging of old sketches, delightful though that might be.
The present performers have created material to place these comedy gems in a context. An ailing Ernie Wise lies wired up in a hospital bed. A white-coated doctor comes into check on the patient but, with those signature spectacles it is obviously Eric. He may have been dead for fifteen years but he's come back to pick up the old partnership.
There is a squidgeon of information worked in about their origins, their friendship and the development of their act but this isn't a biographical ploy: it is another funny sketch that serves as framing for the pre-existing ones and leads into one final show for the pair who were voted Britain's favourite entertainers.
Jonty Stephens as Eric and Ian Ashpitel as Ernie make themselves look sufficiently like the great originals that seeing them together there is no doubt who they are. They've also studied their vocal tricks and moves, but this is not like watching a couple of impersonators. The way in which these two work together and with the audience captures the spirit of the originals and almost makes us forget that they are not really them.
With Eric's paper bag routine, the Grieg piano concerto sketch and other old favourites, this could just be a nostalgia fest but Stephens and Ashpitel make this material theirs and produce the same warmth and real partnership that fired the original act.
Their show was conceived some years ago as a piece of affectionate fun that has now grown into a ninety-minute show plus interval. This isn't a slick piece manufactured for the West End but a couple of performers sharing their own enjoyment that makes a genuine tribute to Ern and Eric without any of the tackiness that seems to stick to "tribute" shows, for they are playing the relationship, not just performing the sketches.
The gags keep coming but they are only half the point.
Check theatre site for performance dates and times.
Reviewer: Howard Loxton