Erik Satie's Faction
Alistair McGowan
Pleasance Courtyard
–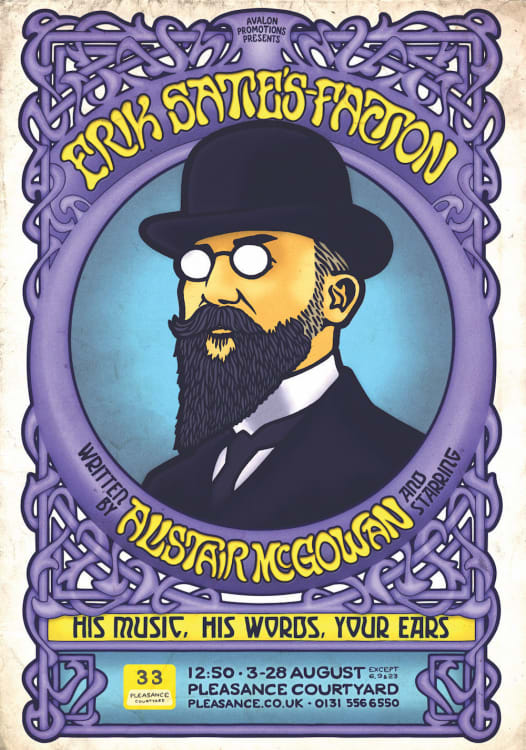 Multi-talented performer Alistair McGowan has adapted the various writings and ideas of French composer Erik Satie and combined them into this one-man show.
McGowan plays many of Satie's compositions, plus a bit of Debussy, interspersed with lectures, letters to his brother and a few loud knocks on the door, which he ignores. We do get some clear biographical details, about his childhood, education, failed single love affair and his refusal to let anyone into his flat for the last 27 years of his life.
However this is far from a conventional narrative account of his life. Some of the details of his life are told to us in a straightforward manner, whereas others are hinted at by things he says or does or by elements of the impressive set design, consisting of a sweep of manuscript paper making up both the floor and the back wall, onto which still or animated projections illustrate the words or the music, and a lot of umbrellas.
He tells us he is not a musician but has a scientific approach to composing his music, having analysed the "phonometrics" of Beethoven and Verdi. His music was dismissed for being original and therefore "not natural" and "not French", whereas he argued that the French composers should break away from the Wagnerian ideal to become more impressionistic, like the paintings of Monet, Cézanne and Lautrec. He also takes credit for Debussy finding the style for which he is now famous.
There are some odd interludes too, such as when he debates the failure of sufficiently educating animals to have some artistic appreciation and his arguments on children and music. However this is part of a style that portrays the subject as a precursor to surrealism and even absurdism as well as the father of impressionism in music through the form of this piece.
The jumpiness of the script is in danger of acting against keeping the audience consistently engaged, but this is a slick and polished production with a very good performance at the heart of it.
Reviewer: David Chadderton