Ernani
Giuseppe Verdi, libretto by Francesco Maria Piave, based on a play by Victor Hugo
Teatro dell'Opera di Roma
Teatro dell'Opera di Roma, Italy
–

Listing details and ticket info...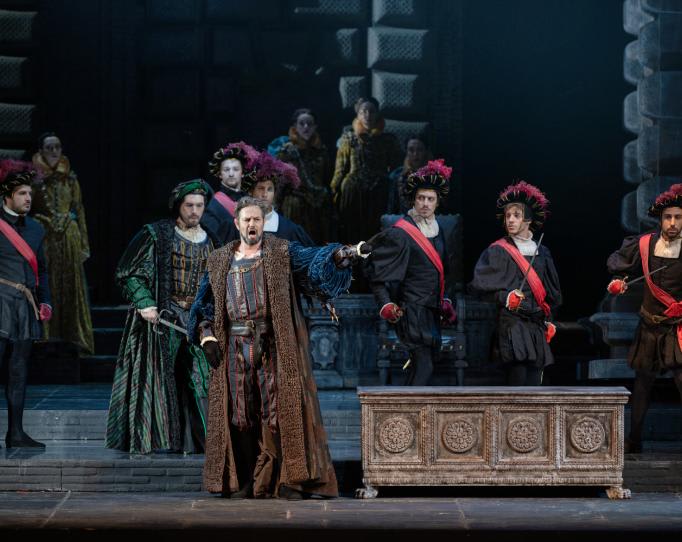 In 1844, the 31-year-old Giuseppe Verdi gave operagoers the highly charged, theatrical flood of emotion Victor Hugo's play needed and established his international reputation. Why is Ernani not revived more often? The arias, duets, trios and ensembles are so melodious.
Elvira (Angela Meade) has three men fighting over her: Ernani (Franceso Meli), a nobleman turned bandit whom she loves; Silva (Evgeny Stavinsky), her elderly guardian to whom she is betrothed and loathes; and Don Carlo, King of Spain (Ludovic Tézier), who abducts her. Bandit and guardian, instead of killing each other, form an unlikely alliance to kill the king.
Hugo De Ana's old-fashioned production, conducted by Marco Armiliato, is disappointingly lifeless. The singers aren't actors. There is no passion, no chemistry and there's no excitement musically, either on stage or in the orchestra pit. The chorus, richly costumed in medieval attire, just stand around and bring nothing to the performance. The reception is lukewarm. The only bravo is for Carlo's aria in act 3.
Teatro dell'Opera di Roma's Ernani can be watched free on the OperaVision channel.
Reviewer: Robert Tanitch